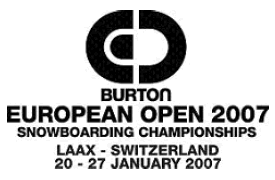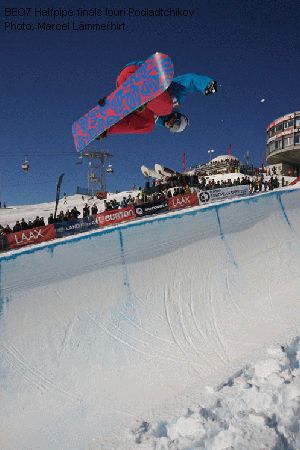 Blue skies and sun welcomed all HP finalists today up on Crap Sogn Gion for the BEO final event day! What a perfect day after inclement weather over the last week. Canadian Crispin Libpscomb took home the title and $ 10.000 prize-money. In the womens event it was Australian Holly Crawford who was unbeatable, even though she was riding in pain with a broken rib.

Crispin Lipscomb went by far the highest today and his winning run included a frontside inverted 1080, a cab 720, a frontside 900 melon, a backside 900 and a huge backside alley oop 360 indy at the end of his run. Crispin had the following to say: I am so happy! It was a super sunny day with great riding. This win makes me wanna come back to ride this great pipe again here in Laax!

Holly Crawford impressed the judges the most today, after qualifying first in the semi-finals on Friday. Today her winning run included a frontside 540 stalefish, a japan air, a stalefish, a frontside 7 and ended with a cab 540. Holly said: It was an awesome day, even though I was riding with the pain of my broken rib. Im so stoked to win the comp today!

All riders who competed in the BEO halfpipe event earned points toward the Burton Global Open Series (BGOS) mens and womens championship titles worth $100,000 each, the largest single payout in snowboarding. Crispin Lipscomb & Holly Crawford each earned 8,000 points towards the BGOS championship title for winning todays halfpipe finals. The male and female riders who accumulate the most points during the BGOS event series, which includes the New Zealand Open, the Burton European Open, the Nissan X-Trail Nippon Open and the US Open, will win the title. Currently, Ellery Hollingsworth (USA) and Crispin Lipscomb (CAN) are in the lead for the BGOS title after the BEO HP event.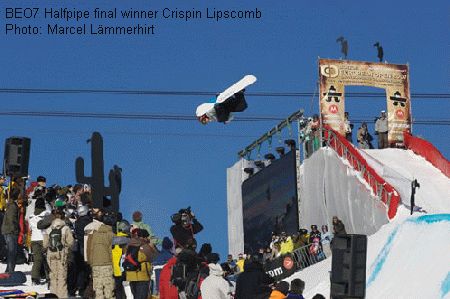 After todays event, the Ticket To Ride (TTR) World Snowboard Tour Ranking List also changed. Crispin moved from TTR Rank 127 into the TTR Top 30 at TTR World Nr 29. 3rd placed rider from today Janne Korpi moved from 25th to TTR World Nr 14 and Iouri Podladtchikov made the Top 10 TTR and is now ranked 7th.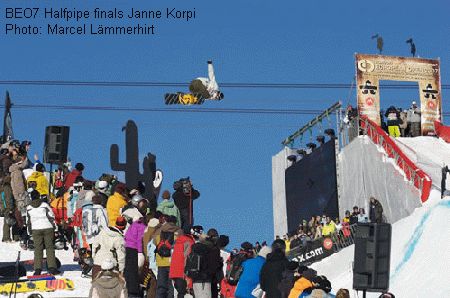 Be sure to watch complete webcast coverage of the BEO halfpipe finals, parties and events on www.lat34.com/beo.
2007 BEO mens halfpipe final results
1. Crispin Lipscomb CAN
2. Iouri Podladtchikov RUS
3. Janne Korpi FIN
4. Peetu Piiroinen FIN
5. Markus Malin FIN
6. Rolf Feldmann SUI
7. Markus Keller SUI
8. Christian Haller SUI
9. Mitchell Brown NZE
10. Roger Kleivdal NOR
11. Sergio Berger SUI
12. Gian Simmen SUI
13. Henning Marthinsen NOR
14. Xaver Hoffmann GER
15. Stephan Maurer SUI
16. Luke Wynen USA

2007 BEO womens halfpipe final results
1. Holly Crawford AUS
2. Sarah Conrad CAN
3. Ellery Hollingsworth USA
4. Juliane Bray NZE
5. Meri Peltonen FIN
6. Andrea Schuler SUI
7. Lisa Wiik NOR
8. Anne Sophie Pellissier FRA