Keeping with the BRITS tradition and crossed fingers from the organisers over the past couple of weeks, blue skies welcomed over 98 snowboarders to the start gates to compete in the Tresspass British Snowboardcross Championships, which set the pace for the weeks competition.

A record number of competitors donned helmets and body armour to go head to head down the challenging course of banked turns and jumps until only the fastest remained to battle it out in the adrenalin fuelled finals.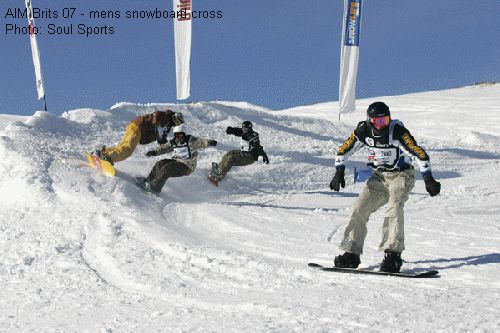 In the womens final, it was tight out of the start gates, making it hard to call who would take the lead first. All neck and neck, until the first banked turn, when Jo Chastney took the inside line to lead the pack, but with the other finalists, Lucy Passmore, Posy Dixon and Ivy Taylor, hot on her tail and ready to steal the lead at any opportunity. Despite their persistence, Jos solid riding kept her in the lead and won her the gold, with Posy coming in a close second, Lucy third and Ivy in fourth.

The mens final was a lot more competitive with all guys eager to be first out of the gates to get an advantageous lead. Opting to gap the rollers, Nick Dudar took an early lead, but failed to hold onto it as Robert Emmanuel picked up the pace to finish first over the line, closely followed by Nick Dudar, Michael Arrowsmith and Simon Parfitt respectively.

A definite crowd pleaser from the days competition was the return of some of the UKs finest snowboarding masters and British Champions from throughout the years, including Chris Moran, James Stentiford, Matt Burt and Spencer Claridge, who had dusted off their helmets and put on their back supports for one of the most entertaining finals of the day.
Trespass British Snowboardcross Championships Results:
Men:
1st - Robert Owain Emmanuel, Edinburgh
2nd Nick Dudar, Invenesshire
3rd Michael Arrowsmith, Dorset
4th Simon Parfitt, Glasgow

Women:
1st Jo Chastney, Bournemouth
2nd Posy Dixon, London
3rd Lucy Passmore, Milton Keynes
4th Ivy Taylor, Cheshire

Dont forget to check out the all new BRITS 2007 daily webcasts at www.aimseries.com, where you will be able to review the coolest action from the previous days competition, including the best footage from the qualifications, finals, prizegiving as well as rider profiles and interviews with your favourite British athletes and all of the action from the apres ski parties. The webcast for todays competition will be available to view from approximately 12 noon on Tuesday 13th March.