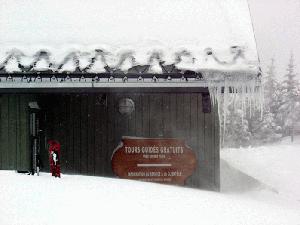 Le Massif's distinctive microclimate has produced exceptional snowfalls over the past two days so the Charlevoix ski area will be welcoming slide sport enthusiasts for one more weekend on the trails, April 21 & 22.

With accumulations ranging between 90 cm and 110 cm from one mountain sector to the next, skiers and riders will enjoy a special $30 rate to sail Le Massif's highest peak from 9am to 4pm, on Camp-Boule Express' 11 slopes.

Trail access is only possible via the summit. Lift tickets on sale at the Ticket Office, next to the Summit Chalet. Outdoor bar & BBQ.


All services at the Base, as well as the Summit Cafeteria, Equipment Rentals & Repairs, SnowSchool and Daycare are closed. As well, Grande-Pointe Express and Maillard Express lifts (departing from the base) are closed.