Snow Park opens
Snow Park NZ's 2007 season kicked off in Lake Wanaka this weekend with a record number of skiers and snowboarders turning out to enjoy their first tracks on fresh snow.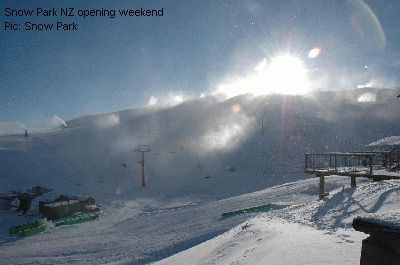 Since last Thursday three weather systems have hit the region delivering over 40cm of natural snow to the terrain park, the only Wanaka ski field currently open.

Snow Park NZ received a good number of visitors, over 800, during the first three days of opening. Both Saturday and Sunday's numbers of guests were significantly higher than last year, up 20% and 50% respectively.

Sam Lee Snow Park NZ's manager said that despite the wintry conditions and the road closures in the area, there were plenty of people keen to get their snow season underway. "The boarders and skiers were delighted to be carving it up on the fresh snow and trying out the new features. It was a great start to the season," he said.

All areas of the terrain park are open including the 'Half Pint Park', a dedicated area for novices. The park has many features in place; these will be added to and refreshed throughout the season.

The average base is 50cm with pockets of deep wintry snow over 2.5 metres in some areas.
Cardrona & Treble Cone to open soon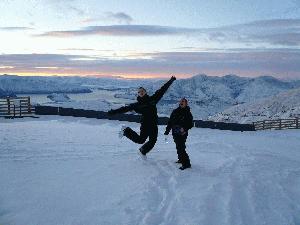 Lake Wanaka's 2007 ski season started with heavy snowfalls and right down to lake level turning the resort town into a picturesque winter wonderland.

With Wanaka's four ski areas planning to open in the next few days, the 15cms couldn't have come at a better time with another southerly blast and more snow predicted over the weekend.

Snow Park NZ was the first field to get the lifts turning with keen skiers and snowboarders queuing for the first ride up the mountain at 9.00am this morning. With up to 15cms of fresh snow across the terrain park, smothering the already 100% coverage the snow machines and groomers had created, the freestyle action was underway.

Cardrona Alpine Resort will open in the next few days should the snow continue to fall from the south-westerly fronts coming through. The new snow and round the clock grooming will provide skiers and boarders great on-piste conditions.

The roll-out of Lake Wanaka's ski areas continues next week with Treble Cone scheduled to open on Tuesday 26 June with good early season snow conditions, followed by Snow Farm later in the week.

John Alldred, CEO of Lake Wanaka Tourism said the timely snowfall had created a buzz of excitement in the town. "The ski season has started and snow enthusiasts are keen to strap on their boards, clip in to their skis and make their first turns," he said.

The new developments for Lake Wanaka's four ski areas include: snow making, new on-mountain accommodation, a new terrain park, a new laser rifle for Biathlon and a commitment to sustainable tourism.