High-Speed Action at Norfolk
Trespass Snowboard/Skiercross Championships and Big Air Jam
The smell of burning wax and competitiveness was in the air at Norfolk over the weekend, 22nd Sept – 23rd Sept, when over 55 Skiers and Snowboarders took to the slope for the Trespass British Artificial Snowboard and Skiercross Championships.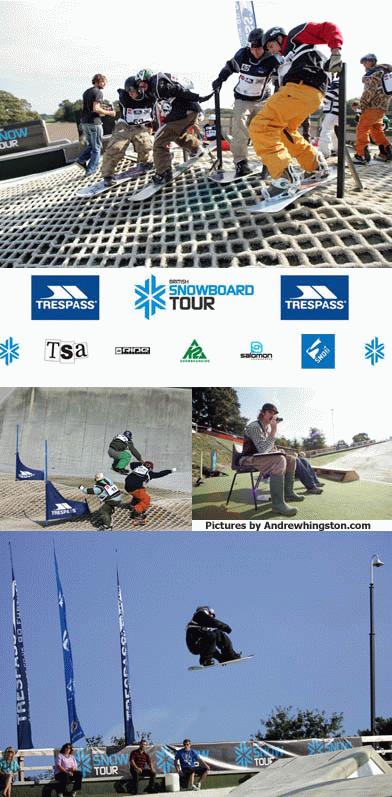 Trespass British Snowboardcross Championships
The Trespass Snowboardcross Championships were welcomed in with true Norfolk agricultural style by local rider and MC, James Thorne, sporting a flat cap, waistcoat and wellies. During the competition each rider received a timed run before going head to head into the eliminating rounds with the hopes of making it through to the final. After a great start Samantha Rogers set the pace in the women's final, with 2006 Artificial Snowboardcross Champion Vickie Pullin hot on her heels. Taking advantage of her lead Samantha crossed finish line first to take the 2007 women's title, with Vickie and Becca Richardson in a very close second and third. The men's final was one of the closest races of the day, with Harry Kingsley-Jones, Jamie Keeble and Jack Albrow pushing Nathan Onions out after the third turn to make it tight race for 1st 2nd and 3rd. Harry opted to gap the rollers and scraped his way over the line in first to take the title, with Jamie Keeble and Jack Albrow following in second and third respectively. The younger competitors stepped it up during the afternoon's Big Air Jam, spinning switch 540's and 720's ensuring them spots through to the eight man final. Jamie Keeble and Tom Percival were throwing down big frontside rodeo 720's and corked backside 720's to take second and third, but it was 13 year old Sparrow Knox who landed a 900 and switch backside 540 who took the title. In the women's Big Jam Samantha Rogers upped the ante by pulling out a big frontside 540 to add another win to her already impressive collection.

Trespass British Snowboardcross Championships Results
| | |
| --- | --- |
| Men | Women |
| 1st - Harry Kingsley-Jones - Sailsbury | 1st - Samantha Rogers – Reading |
| 2nd - Jamie Keeble - Bury | 2nd - Vickie Pullin – Tewkesbury |
| 3rd - Jack Albrow - Norwich | 3rd - Becca Richardson – Middlesex |
Big Air Jam Results
| | |
| --- | --- |
| Men | Women |
| 1st - Sparrow Knox – Crouch End | 1st - Samantha Rogers – Reading |
| 2nd - Jamie Keeble - Bury | 2nd - Becca Richardson - Middlesex |
| 3rd - Tom Percival - Bury | 3rd - Claire Andrews - Bedfordshire |