The British Snow Tour Accelerates into Milton Keynes Trespass Snowboard/Skiercross Championships and Big Air Jam The British Snowboard & Freeski Tour puts its foot down and heads to Milton Keynes SNO!zone on Saturday 13th October for some high-speed action during the Trespass British Indoor Snowboard/Skiercross Championships and slopestyle Jam.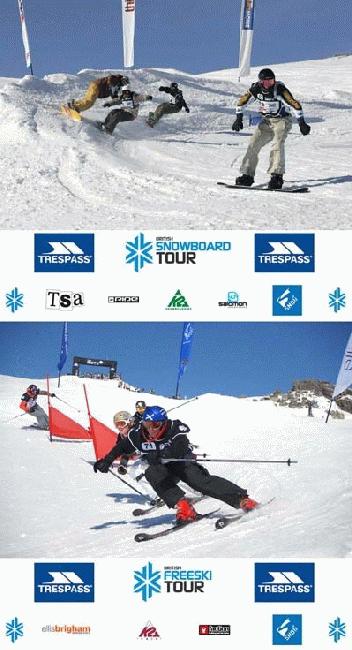 Prior to the weekend's competition, the British Snow Tour Schools Team will be heading into two Milton Keynes schools on the 11th & 12th October to inspire over 1,000 school pupils and give away 100 FREE lessons. Method Snow School will be on hand on Friday evening to offer some freestyle coaching tips, plus FREE product testing from Salomon, Ride, K2 and Faction Ski's will be up for grabs. Over 100 of the UK's top snowboarders and freeskiers will don helmets and sharpen their edges for the Trespass Snowboard and Skiercross Championships this weekend. Competitors will race in heats of four down a challenging course that includes bumps, jumps and tight banked turns, pushing reactions and control to the max. Riders will also be able to flex their freestyle boards and skis during the Slopestyle Jam, with local snowboarders Steve Revill, Chris Chatt and freeskier Amber Connors leading the way. Competition is open to all abilities and all riders must pre register online to secure their spot: www.britishsnowtour.com
The Trespass British Snowboard & Skiercross Championship and Slopestyle Jam Schedule • Thursday 11th October: - Schools Tour Team head to Radcliffe School
Friday 12th October: - Schools Tour Team head to Ousedale High School
Friday 12th October: - 7 – 10pm Milton Keynes SNO!zone, FREE snowboard and Freeski coaching, plus FREE product testing (Ride, K2, Salomon & Faction Ski's)
Saturday 13th October – Trespass British Snowboardcross and Slopestyle Jam, Milton Keynes SNO!zone • 09.00 – 10.00: Registration / Collection of Bibs • 10.00 – 11.30: Snowboardcross practice • 11.30 – 12.30: Trespass British Snowboardcross Championships • 13.00 – 17.00: Slopestyle Jam • 18.00 – 18.30: Prize Giving
Saturday 13th October: - 12.00 – 16.00, Milton Keynes SNO!zone, FREE Ski & Snowboard Lessons with the Trespass Ski and Snowboard Academy Salomon and Faction Ski's are continuing to reward fresh talent during the event by giving away new set-ups in the "Salomon Best Un-sponsored" and Faction Skis "Step Up" awards.