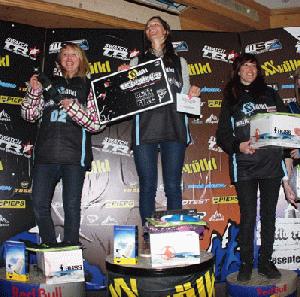 The British Junior Snowboard Squad, who impressively collected over 24 medals at the recent BRITS 08, continued to be on top form over the weekend when they competed in the final TTR 3-Star event of the season, The World Rookie Fest Slopestyle Finals, Ischgl, Austria, 18th – 20th April.
Snowboarders from across 12 countries competed in the event and despite the flat light and challenging slopestyle course the Junior Team, which included: Aimee Fuller, Lewis Courtier-Jones, Henry Shackelton, Ollie Jackson, Sam Turnbull, and Dean Horsefield, stepped it up and achieved some great results!
Aimee Fuller, who recently picked up three gold's in her age category at the BRITS ended her first competitive season on the British Junior Squad in style, taking second place in the Rookie Female competition with a backside 360 and 50-50 to frontside boardslide on the big rail. Lewis Cortier-Jones who recently became the 2008 Kids French Slopestyle and Halfpipe Champion was also on top form, landing frontside 360's over the big kickers and along with team mate Ollie Jackson narrowly missed out on qualifying through to the finals. The level of riding was extremely high and the British Junior Team continued to set the standard for UK riders competing at a worldwide level and look set to storm the snowboarding scene in the approaching seasons.
For regular team news updates subscribe for FREE to the "Across the Board" newsletter at www.snowsportgb.com