The British Snow Tour hit Milton Keynes over the weekend, Saturday 27th September, to host the Quiksilver British Big Air Championships. The huge 10m kicker set the stage as over 120 of the UK's top Snowboarders and Freeskiers threw down an impressive bag of tricks including stylish 7's, frontfilps and textbook 9's. The Schools Tour Team also proved to be a big hit with over 100 enthusiastic kids taking part in the FREE beginner lessons, courtesy of the Quiksilver Lesson Academies.
The 2-STAR TTR Quiksilver Snowboard Big Air Championships kicked off the day's competition with over 70 riders taking to the slope each receiving two qualifying jumps to impress the judges and make it through to the top eight men and five women finals. Youngsters, Tom Hunt, Ollie Jackson and Mel Kern were pushing up through the ranks, securing places into the final, keeping the older competitors on their toes.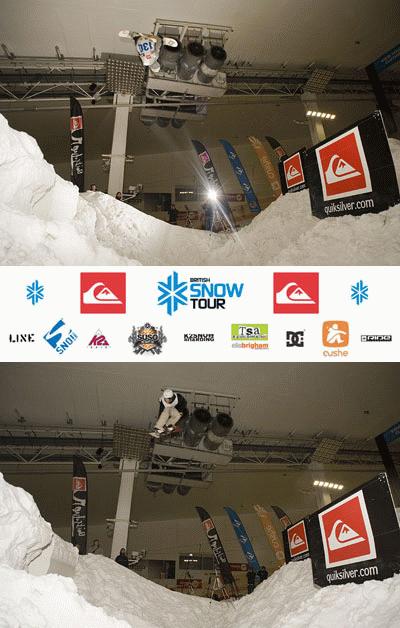 In the women's final, Mel Kern continued to be on top form and landed a smooth 360 over the medium kicker to take home third place overall. Second place went to Lynsey Ashdown who stomped a stylish Indy over the big 10m kicker and Samantha Rogers, much to the delight of the crowd and judges, pulled out a huge and gutsy frontflip over the big kicker to take the 2008 Women's Quiksilver Big Air Title.
During the men's final, riders were opting for a slingshot drop in for optimum speed and amplitude resulting in some of the biggest indoor airs ever witnessed. 2007 British Slopestyle Champion, Ryan Davis, threw down some of the most stylish tricks of the day, tweaking out a frontside 720 which oozed style, to take third place.
Ben Knox finished in second place after he stomped a massive backside 720, almost reaching the rafters, and with a perfectly landed textbook 900, Jamie Nicholls walked away with first place and the 2008 Quiksilver Big Air Title, continuing to secure his spot as one of the UK's top riders.
Quiksilver Snowboard Big Air Results
Men
Jamie Nicholls – Bradford
Ben Knox – Crouch End
Ryan Davis - High Wycombe
Women
Samantha Rogers - Reading
Lynsey Ashdown – Manchester
Melinda Kern – East Grinstead