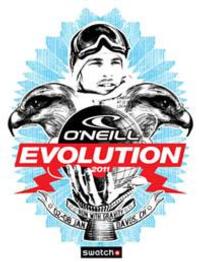 With only eight of the 29 riders going through to the semifinal stages, competition was fierce – much to the delight of the crowds gathered at the bottom of the pipe.
However it was 20 year old Norwegian Linn Haug who went through top with a score of 92.17 from her first run, which included an impressive McTwist.
Not far behind her were the three French girls, Clémence Grimal, Anne-Sophie Pellissier, whose second run saw her pull off a BS 540, FS 540, BS Air, Air to Fakie and Cab 540, and then Thovex Mirabelle.
The impressive showing builds much anticipation for the finals on January 7th where riders including last year's winner Ursina Haller as well as American Olympic Halfpipe 2002 gold medalist Kelly Clark will be among those to watch.
Tomorrow at this O'Neill 6Star Swatch TTR World Snowboard Tour event, the women will take to the Slopestyle to qualify for the semi-finals on a course that Slopestyle designer and head shaper Max Henault says will suits all styles of riding:
"In addition to the big jump, we added a 12 meter long jump on the right hand side," said Max. "The way it's been shaped makes it perfect to try different tricks. I think in the qualifications we will see a lot of people hit this jump, but by the semi finals most of the girls will be going off the big jump," he said.

I've been watching the training and already Jamie Anderson is doing a 720 off the big jump and a lot of girls are spinning 360s of the big jump as they get used to it," said Max. "We also saw Celia Miller trying for a BS Rodeo 7 off the smaller jump. So it's going to be interesting," he said.
After 4 days of shaping Max says the course should offer a new level of riding to the O'Neill Evolution: "We went for a fun set-up that riders can enjoy riding and trying new tricks," he said. "It's safe so they can push their riding. At the bottom we went for as much variation as possible to bring a good show to everyone involved."
The women's 6Star Slopestyle qualifications are on tomorrow, January 4th, at 1.30pm
RESULTS: HALFPIPE QUALIFICATION WOMEN
1. Linn Haug. NOR 92.17
2. Clémence Grimal, FRA 88.33
3. Anne-Sophie Pellissier FRA 86.00
4. Mirabelle Thovex, FRA 80.83
5. Elena Könz, SUI 79.00
6. Akiko Miwa, JPN 75.17
7. Helen Nadig, SUI 71.67
8. Silje Norendal, NOR 70.50
27. Aimee Fuller, GB
For more information visit www.oneill.com/evolution