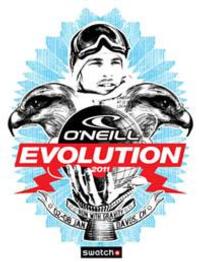 The business end of the O'Neill Evolution 2011 got underway today with the women's Halfpipe semi-finals in which 2002 Olympic Gold medalist Kelly Clark stole the show.
To a cheering crowd gathered at the base of the Jakobshorn, the 27 year old American pulled out a score of 89.05 on her second run with a huge FS Air, BS540, FS 720 and a Cab 7.
"I am doing the TTR this year so I thought Evolution would be a great event to come to before going to Laax," said Kelly.
"I also have some good friends here as well so it's been good to come here to see them," she said. And everyone could definitely hear them as they cheered her every trick – and much deserved cheering it was.
"The halfpipe is shorter than what I am used to, but it's really good," said Kelly. "The important thing about the semis is to qualify for the finals. Now I'm in the finals I will for sure try more."
In addition to the Women's semi-finals, the Jakbshorn Halfpipe also played host to the Men's qualification heats at this 6Star Swatch TTR World Snowboard Tour event.
It was two Swiss riders who came out top of both qualification rounds – Jan Scherrer from the first and Patrick Burgener from the second.
But also making a huge impact in the qualifications was the young American rider, Scott Moline. "It's amazing here so far," said Scott. "Today I just did a Crippler 7, Cab 7, Front 5 and Back 5. I kinda want to put in a front 10 or maybe a front 9. But I want to stay going big," he said.
"It helps that they judge amplitude because in pipe it's a lot harder to go big and do tricks then go small and do technical tricks," said Scott.
The 17-year-old from Wisconsin will also be one to watch in the Slopestyle qualifications tomorrow. "When I first saw the jump I was like, woah, it's massive! But today we were just spinning and having fun and with Max Henault helpign me I learnt how to do a backside Double Cork 10. That's amazing!" said Scott.

"This jump helps with progression of the sport so much," he said. "If it's a good day, you can practice your run and practice new tricks. I can't wait. It's going to be so much fun."
RESULTS: HALFPIPE FINALISTS WOMEN
1. Kelly Clark USA
2. Kjersti Østgaard Buaas NOR
3. Ursina Haller SUI
4. Anne-Sophie Pellissier FRA
5. Mirabelle Thovex FRA
6. Cilka Sadar SLO
7. Linn Haug NOR
8. Paulina Ligocka-Andrzejewska POL
9. Nadja Purtschert SUI
10. Clémence Grimal FRA
Mens Halfpipe qualification
In the mens halfpipe qualification 68 riders had to get whittled down to just 15 for Friday mornings semi-finals, where they will be joined with the 15 invited riders.
The British Freestyle Snowboard Team had a large presence in the qualification with 15yr old Lewis Courtier-Jones coming 23rd in the first heat. The second heat saw Dan Wakeham and Cody Hierons compete, Cody came 22nd, but Dan (still not a comeback) stuck in 2 high 60's runs and qualified in 6th position in the heat.
Heat-1
Jan Scherrer SUI
Laari Ilkka-Eemeli FIN

Benji

Farrow USA

Masakaze

Yoshida

JPN

Manuel

Pietropoli

ITA

Roger

Kleivdal

NOR

Hiroki

Suwa

JPN

Lars Bachmann

SUI
Heat-2
Patrick Burgener SUI Lausanne 16 75.45 79.10 79.10

Kosuke

Hosokawa

JPN

Spencer Shaw USA
Scott Moline USA

Dolf

Van

Der

Wal NED
Dan

Wakeham

GBR

Janne

Lipsanen FIN
For more information visit http://www.oneill.com/evolution and don't forget you can watch the semi's and finals live on the World Snowboard Guide