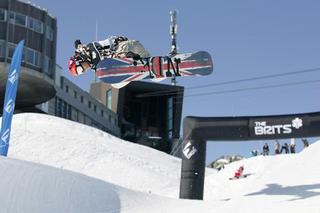 The Scots Scoop Gold in SNO!zone Halfpipe Championships
****The SNO!zone British Snowboard Halfpipe Championships****
Wednesday 14th March 2007 -
Day three of the BRITS 2007 saw the UK's leading male and female snowboarders take on Laax's 6m high super pipe with contenders to the crown including, Olympian and reigning female British Halfpipe Champion Lesley McKenna, and GB team members Sam Cullum, Ben Kilner and Angus Leith, who were all out on top form and eager to grab hold of the gold.
After several hours of hard fought qualifications, which saw the best of British snowboarders battling to make it into the top 12 men's and top 6 women's, it was time to start the much anticipated finals.
In the women's snowboard halfpipe final, the three ladies through were Lesley McKenna, Maria Cork and Laura Hill making for a very exciting showdown. Taking bronze was Maria Cork, with a smooth run packed full of hits, including a
frontside indie, backside air, frontside stalefish, and an impressive frontside 360 to finish
. Laura Hill came through, keeping everything clean and consistent with a
frontside lean, to backside air, to frontside 360, to cab 360 all tricks a good 3ft above the top of the coping
ensuring she took the silver medal. Thus meaning that Leslie McKenna had to be at the top of her game and she sure was after completing a perfect run, which would have tipped most of the men from their podium spots. Going huge, McKenna's winning run included a big backside air, frontside 540 and a smooth 360 on her final hit, meaning she retained her title for the third consecutive year.
With 2006 British Halfpipe Champion, Dom Harrington, out of the picture in the men's final, due to an ankle injury sustained in Tuesday's Big Air Championships, the field was left open for one of the youngsters to take the top spot, and so the fight for the coveted 2007 title commenced. Three snowboarders from the kid's age category Jamie Nicholls, Cody Herons and Sparrow Knox made it through to the final along with all three Knox brothers. With consistent riding all through the BRITS 2007, Gary Greenshields deservedly took bronze, with a smooth and fluid run consisting of a
big backside melon to frontside nosegrab, huge air to fakie and a cab 540 to finish. Second spot went to GB team member, Sam Cullum, whose successful run consisted of a huge corked frontside 720 on his first hit, cab 360 to Mctwist and frontside 540 on his last hit, looking like it was going to clinch the top spot. But Sam's GB teammate, Angus Leith, who was launching out of the pipe, much to the love of the crowd, threw down a solid and technical run including a frontside 540, followed by a big Japan air, to frontside 720 and cab 540 to finish. The super stylish run had done enough to take the extra points and to take first place and the SNO!zone British Halfpipe Championship title.
1st - Lesley McKenna, Aviemore
2nd – Laura Hill, Gloucestershire
3rd – Maria Cork, London
1st – Angus Leith, Aviemore
2nd – Sam Cullum, Bracknell
3rd – Gary Greenshields, Edinburgh
Don't forget to check out the all new BRITS 2007 daily webcasts at www.aimseries.com, where you will be able to
review the coolest action from the previous days competition, including the best footage from the qualifications, finals, prizegiving as well as rider profiles and interviews with your favourite British athletes and all of the action from the apres ski parties. The webcast for Tuesday's competition will be available to view from approximately 12 noon on Thursday 15th March.