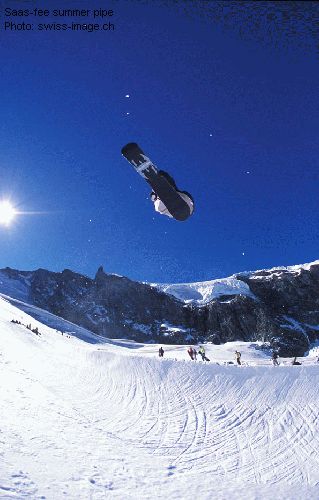 Once again this year, from 22nd to 25th November, the Snowboard World Cup will be in Saas-Fee. Snowboarders will compete against each other in two halfpipe events. It's the first competition in the World Cup season for the halfpipe. Over 100 boarders from 21 nations will compete.The qualifying rounds for the first halfpipe competition will take place on Wednesday and Thursday. The first final follows on Thursday afternoon.
The qualifying rounds for the second halfpipe competition will then take place on Friday and Saturday.
The previous week, 15th to 17th November, will see the FIS European Cup held in the glacier village! About 100 snowboarders from 18 nations will show their skills in the halfpipe.ASaas Fee has a kick arse half pipe, it's 110-130 metres long, with steep walls about 5.5 metres high, the transition is great and both events will see some top riders styling it.