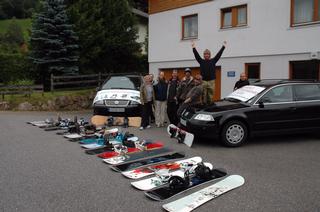 After last seasons stop start snow fall, Hintertux in Austria last week got a shed load of the fresh stuff. We've had reports from our, I just can't stop boarding team, that it was -16 with loads of beautiful fluffy powder covering the whole glacier last weekend. With more of the stuff expected, in the next few days, a little weekend break to the Zillertal Valley could be a great idea. There's snow forecast over most of the high alps over the next few days so get yourselves out there and don't let the sun stop you boarding. Take a look at our Summer boarding guide for some ideas of where to go.
http://www.worldsnowboardguide.com/articles/summer/
Above WSG team on last years summer board test, where we had more powder in a weekend than on a three week road trip around British Columbia.