Village life, accommodation and nightlife
in Les Deux Alpes
Hotel search
Resort life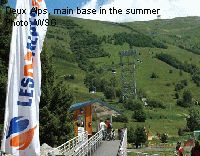 Off the slopes and at the base of the runs, Les Deux Alpes sits conveniently for most local services, but being a large town, not everything is within walking distance. The resort is a mix of old school and purpose-building, which means things arent particularly subtle.
There are loads of off-slope services, including a cinema, bowling alley, sports complex and an outdoor climbing wall. It is a busy package tour destination so expect a lot of tourist junk shops, however there are a couple of decent boarders shops, too.


Eating
Food-wise, this place caters well for people on a budget, as well as those who want to splash out. There are some reasonably-priced pizza and burger bars that are very good indeed. The Thai takeaway is much better than the disappointing Chinese.
For Tex-Mex, visit Smokey Joes or Saxo - also home to some of France's loveliest bar staff (Top French Tottie).
Nightlife
Nightlife goes off seven nights a week, things start early and finish late. Smokey Joes, near the main gondola station, is good for a beer after a long day, and has a big screen for the football games. Theres the obligatory Yeti bar, Smithys gets messy late on, the Red Frog is a friendly Brit haunt, and Pub Le Windsor is a great little bar with a massive Whiskey menu. LAvalanche and LOpéra are the places to head later - if you can still stand.
accommodation
Accommodation: Theres something like 30,000 beds available, from standard-grade apartment blocks to modern hotels, with only a couple of traditional-style chalets. Prices are pretty reasonable and theres a hostel in town if your budget's real tight.


READ NEXT: Mountain statistics
Resort Information
Location
Advertisement