News on Baqueira Beret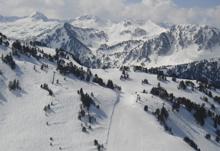 Thu 05 April 12, Baqueira Beret, Spain
Snow Returns to Northern Europe and Continues in Western North America!
Wed 17 February 10, Mt Washington, Canada
* Bring a snorkel for 'shoulder deep' skiing in Niseko. Snow on the ground in all 50 US states for the first time since 1977, More snow in Madrid, Europe's Most Southerly Ski Areas Reports up to 4m of snow, Another foot of snow on Scotland's ski slopes, best season in 30 years continues.