Freeriding, terrain parks and pistes
in Sunday River
Freeriding
Freeriders will find that a week's stay here will not be wasted provided you get out and explore all eight mountains. Each one offers something a little different to the last, although in the main they don't vary too much. Still, the resort management have planned the runs and offer different slope pitches and terrain features that will catch you out if you are not concentrating on what you are doing. For those riders who can handle fast steeps, the double blacks on
Oz Peak
and
Jordan Bowl
(especially the double black Caramba) are the places to head for. However, beware of Kansas, a long, flat muscle-pumping traverse used to get you back to the main area, the trick here is to keep you speed up. Some good tree-riding can be found on the Baker Mountain.
Freestylers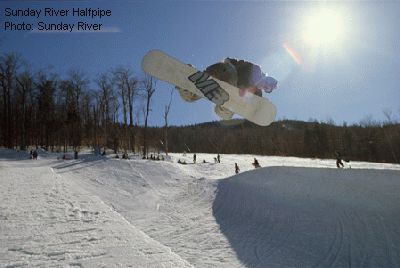 Freestylers will find lots of natural hits to catch air, and plenty of places for jibbing off logs and other obstacles. However, for those who like things laid on, Sunday offers a lot more than many other resorts by providing four terrain parks loaded with all sorts of hits, a boardercross circuit and two halfpipes.
Pistes
PISTES, People who like speed and steeps mixed in together can crank some fast turns on the White Heat trails, which is one of the steepest runs on the east coast. The trails on the North Peak are ideal for intermediate riders who like to take it easy.
Beginners
Beginners here have a resort that is superb for learning at with a large choice of easy runs to try out. The local ski-school offers a great teaching programme called the 'Perfect Turn Snowboard 'Clinic', where they guarantee to teach you to ride in a day, with a maximum of six people in a class.
READ NEXT: Village life, accommodation & nightlife
Resort Information
Location
Advertisement