Snow-search Japan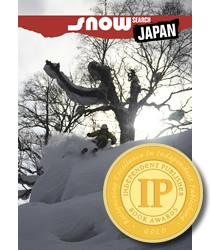 Everything you need to explore the home of the best powder in the world
£14.95
UK +£3.50
EUROPE +£4.00
WORLD +£9.00

Snow-search Japan is our award winning new book and the first in a new series of guidebooks we are launching.
Imagine a country that has literally hundreds of ski resorts but only a handful of snow machines. Imagine a country where ski resorts can average 14 metres of snow in a season and have some of the driest powder in the world.
Snow-search Japan covers over 70 resorts, telling you the best places to visit no matter what your style of skiing or riding is. Combine this with expansive reviews of the ski towns and major gateway cities, plus culture, food and language guides, and you have the most comprehensive book on skiing and snowboarding in Japan ever produced.
From the makers of the critically acclaimed World Snowboard Guide, comes the first book in a new series of guidebooks, focused upon independent reviews with meticulous detail, written by professional writers, snowsport experts and knowledgeable locals.
"Travel book of the year"
Gold Medal award winner at the 2010 IPPY Awards.
"we can't recommend it enough"
Cooler Magazine, Feb 2010
"At last – a really good guide to skiing in Japan"
Ski+Board Magazine
"Thorough, clear and rammed with essential information."
Fall-line Skiing
"A thorough guide that any snow fan heading to Japan should own"
Wellington Dominion Post, NZ
Sample pages
FEATURES
A5 size, 256 pages full in colour on

115gsm

matt paper, section sewn for durability and weighs

550grams

Country, area and city maps
In-depth resort reviews and piste maps
Hundreds of exclusive colour photographs
Access town / city reviews
Comprehensive travel guide
Language and culture guide
Backcountry information
Working and doing a season in Japan
BOOK CONTENTS
Introduction
Culture
Japanese History
Skiing in Japan History
Onsen - what is an onsen, what are the rules, favourite onsen
Food & Drink - what type of food and restaurants are there
Travelling to & Getting around - international and domestic flights, hiring a car, getting around on public transport
Accommodation - the variety of places to stay
Working a season in Japan - what kind of work is available, what are the regulations and what can i expect
Gateway Cities - Tokyo City

,

Osaka City

,

Sapporo City

,

Kyoto City - full reviews with subway maps
Backcountry & Off-piste - what the regulations are, essential kit, safety, CAT Skiing, places to go
Photo Gallery - inspiring shots
Resorts & Ski town reviews
Hokkaido - Sapporo City, Kiroro Snow World, Sapporo Bankei, Sapporo Kokusai, Sapporo Teine, Niseko Hirafu town, Niseko United, Nisko Weiss, Rusutsu Resort, Niseko Snow Adventures, Niseko Moiwa, Furano town, Asahidake, Furano Ski Resort, Kamui Ski Links, Tomamu, Kurodake, Mt Racey, Sahoro, Tokachidake backcountry
Niigata - Yuzawa town,Naeba - Kagura, Pine Ridge, Kandatsu, Gala Yuzawa, Ishiuchi-Maruyama, Iwappara, Joetsu Kokusai, Maiko Korakuen, Muikamachi Hakkaisan, Myoko town, Myoko Akakura, Ikenotaira Onsen, Myoko Suginohara, Seki Onsen, Tangram Ski Circus, Madarao Kogen, Charmant Hiuchi
Nagano - Hakuba town, Hakuba 47 + Goyru, Happo One, Hakuba Cortina + Norikura, Tsugaike-Kogen, Iwatake, Yanaba, Sun Alpina linked resorts, Nozawa Onsen town, Nozawa Onsen Ski Resort, Shiga-Kogen, Ryuo Ski Park, Sugadaira, Norikura Kogen, Takaifuji, Ontake, Tatayama backcountry
Gunma - Minakami town, Tanigawadake Tenjindaira, Minikami Kogen, Kawaba, Norn Minakami, Minakami Houdaigi, Minakami Okutone, Kusatsu Kokusai, White World Oze Iwakura, Marunuma Kogen
Fukushima - Inawashiro town, Alts Bandai, Snow Paradise Inawashiro, Urabandai Nekoma, Grandeco, Listel Ski Fantasia
Yamagata - Zao Onsen, Riser Resort, Gassan
Miyagi - Miyagi Zao, St Marys, Sumikawa (cat ski)
Iwate - Appi Kogen, Hachimantai, Shizukuichi
Kansai + Chubu - Kyoto city, Katsuyama Ski Jam, Takasu Snow Park, Dynaland, Washigatake + Hakkoda, Tazawako, Hunter Mountain, Owani Onsen
TAKE A TOUR