Snow-search Japan - Tsunami Relief Fund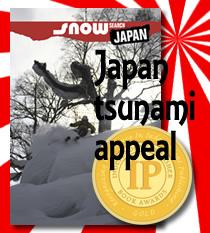 Buy our amazing book & we'll donate £13.50 per book to the Japan Earthquake & Tsunami Relief Fund
As I'm sure you know by now, the north coast of Japan was hit by a devastating tsunami after a 9.0 magnitude earthquake which occurred 80 miles offshore. As of Sunday 20th March, the official death toll is now 8,133, with 12,272 people still missing, and over 400,000 are living in temporary shelters.
Until end of April, we'll be donating a minimum of £13.50 for every purchase of this book, when ordered directly from this website to the Japan Earthquake and Tsunami Relief Fund. Our aim is to sell 1000 books, thereby giving a minimum £13,500 to the relief efforts. For more information on where the money will go please see the bottom of this page.
So buy a copy of Snow-search Japan for yourself, or as a present for someone if you already have a copy of your own, and together let's help raise money for those who have been affected by the worst disaster to hit Japan since the second world war.
About the book
Snow-search Japan is our award winning new book and the first in a new series of guidebooks we are launching.
Japan has hundreds of ski resorts but only a handful of snow machines. Imagine a country where ski resorts can average 14 metres of snow in a season and have some of the driest powder in the world.
Snow-search Japan covers over 70 resorts, telling you the best places to visit no matter what your style of skiing or riding is. Combine this with expansive reviews of the ski towns and major gateway cities, plus culture, food and language guides, and you have the most comprehensive book on skiing and snowboarding in Japan ever produced.
"Travel book of the year"
Gold Medal award winner at the 2010 IPPY Awards.
"we can't recommend it enough"
Cooler Magazine, Feb 2010
"At last – a really good guide to skiing in Japan"
Ski+Board Magazine
"Thorough, clear and rammed with essential information."
Fall-line Skiing
"A thorough guide that any snow fan heading to Japan should own"
Wellington Dominion Post, NZ
Sample pages
FEATURES
A5 size, 256 pages full in colour
Country, area and city maps and Access town / city reviews
In-depth resort reviews and piste maps
Hundreds of exclusive colour photographs
Comprehensive travel, Language and culture guides
Backcountry information
BOOK CONTENTS
Culture,Skiing in Japan History, Onsen , Food & Drink

,

t

ravelling to & Getting around

,

Accommodation, Working a season in Japan, Backcountry &

Off-piste

, Photo Gallery
Gateway Cities - Tokyo City

,

Osaka City

,

Sapporo City

,

Kyoto City
Hokkaido -Niseko Hirafu town, Niseko United, Nisko Weiss, Rusutsu Resort, Niseko Snow Adventures, Niseko Moiwa, Furano town, Asahidake, Furano Ski Resort + Many more
Niigata - Yuzawa town,Naeba - Kagura, Pine Ridge, Gala Yuzawa, Ishiuchi-Maruyama, Iwappara, Myoko town, Myoko Akakura, Ikenotaira Onsen, Myoko Suginohara + Many more
Nagano - Hakuba town, Hakuba 47 + Goyru, Happo One, Hakuba Cortina + Norikura, Tsugaike-Kogen, Iwatake, ,Nozawa Onsen town, Nozawa Onsen Ski Resort, Shiga-Kogen + Many more
Gunma, Fukushima, Yamagata, Miyagi, Iwate, Kansai + Chubu prefectures
Where's the money going?
The money is being donated to the Japan Earthquake and Tsunami Relief Fund with the proceeds going to various organisations including Japan Platform (emergency humanitarian aid organization working with Japanese NGOs,business community, and the Japanese government), Peace Winds(Japanese organization that has focused on emergency humanitarian relief for the past 15 years), Save the Children (working with children and caregivers to provide psycho-social support and materials), Architecture for Humanity (partnering with other organizations to mobilize around the long-term reconstruction effort), International Medical Corps (an emergency response team of doctors on the ground in Sendai), Lifeline Energy (distribute wind-up and solar radios)
How much is being donated?
We will be donating a minimum of £13.50 for every Snow-search Japan book that is sold between now & the end of April via www.worldsnowboardguide.com, the other £1.49 will go towards covering the credit card transaction fees & our production costs. Any money left over from the postage costs will also be donated.