Nevis Range
Home to Scotland's most extreme terrain, and if the snow is
Summary
Freeride - 55%
No trees but some good off-piste
Freestyle - 40%
A small terrain park

Lift count : 1 x Gondolas 3 x Chairlifts 8 x Drag-lifts
20km OF PISTES (24 PISTES)

Pass (Low/High Season) : 21.00-21.00 Half-day , 29.00-29.00 Day , 115.00-115.00 6-day , 115.00-115.00 6-day linked area , 239 Season pass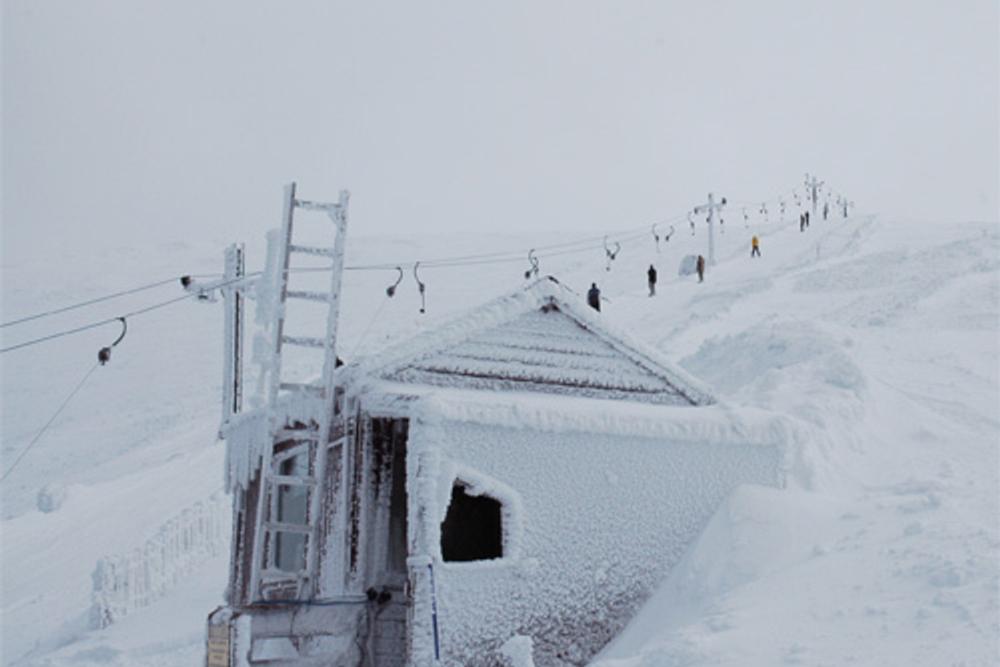 Nevis just after a storm / Photo: Steve Dowle
Introduction
The Nevis Range opened in 1989 and has a modern lift system to rival any small resort in the Alps including Scotland's only gondola. The resort is situated about 6 miles from the town of Fort William, and its summit, Aonach Mor, is only 400 feet shorter than its close neighbour Ben Nevis, Scotland's highest mountain.

As with all the resorts in Scotland the weather is extremely changeable and is often a mixture of high winds, driving sleet ,rain and heavy blizzards. However, the people who run the place shrug off these problems and do their best to look after visitors. The main gondola takes you up from the carpark to the Snowgoose restaurant and the learner area. It's then the quad chair, the goose t-bar and the summit button to reach the top. As you would expect the better conditions can be found the higher you go, and there's usually a small terrain park at the summit.
There's not a tree in sight and wooden fences stretch down the mountain to prevent the snow from blowing off the main area. On a powder day the snow often drifts around the fences which provide some of the deepest snow to lay turns in, but they've nicely sharpened the ends of the fence posts so try not to impale yourself when trying to nab that last bit of powder.

With the exception of Duncans Drop and a few others the pistes are cut very narrow so you can't really open things up too much. They're kept in as good condition as they can be but if it hasn't snowed for a few days expect some brown stony patches.