Cairngorm
"On a good day with full cover, Cairngorms can be a great days boarding - but don't expect alpine conditions and take your old rock-hopper if you value your base and edges! It can get extremely busy at the weekends."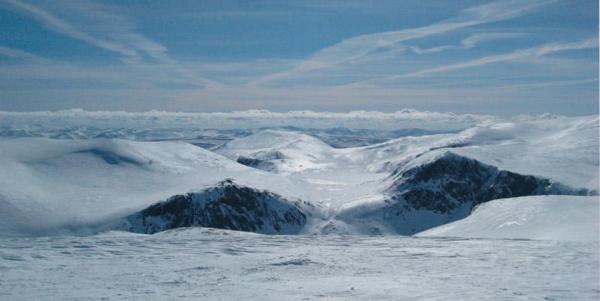 Mountain stats
Lift count : 0 x Cable-cars 0 x Gondolas 0 x Chairlifts 11 x Drag-lifts 1 Funicular Train
30km of pistes
Longest Piste:
1.8miles (2.9km)
Pass (Low/High Season) : £29.00 Day,
The Cairngorm ski resort is situated in Britain's largest National Park and about 10miles from Aviemore. As with every Scottish resort, conditions can be variable at best, and the wind can blow any fresh snow away before it gets chance to get a track through it. However in the right condtions it can be pretty good, but it's those conditions that bring out the crowds and the place can struggle to handle things.
After years of countless arguments with environmental bodies, sad bird watchers and squares from various rambling associations, the Cairngorm Mountain Company finally got the go ahead to build the first ever funicular railway in Great Britain. The funicular is also a big relief to first timers as the beginner slopes are up at the top on the Ciste, which used to be reached by the old chair lift that often had to be shut down due to high winds. The train is able to run in much greater winds and travels a distance of 1200 metres from the top car park up to the new Ptarmigan restaurant in around six minutes.
All the global warming doom and gloom was supposed to have brought an end to snowboarding in Scotland, but the 2009/10 season has been a bit of a blinder so far, and In 2007 the season started in late November and lasted until early May and 2008 was not far off that.  All in all Cairngorm offers some of the best overall terrain in Scotland and with 30km of slopes it is certainly the largest.
Resort Information
Location
External Links
World Ranking
Advertisement