Popular resorts
Linked areas
---
Introduction
Andorra is a self-governing principality under the joint sovereignty of France and Spain, and is known as the cheap snow-package tour centre of Europe. The resorts have spent time and money shaking off its cheap and tacky image, and Andorra now offers much more in the way of quality and services, although this has come at a price. Costs have increased over the years and the lift passes compare with some of the most expensive in Europe. None-the-less, although bar and restaurant resort prices are by no means cheap, the place is still a duty-free tax haven so you'll still pay less for your booze and eating out than you would in Alpine resorts.

Andorra has a number of very small resorts that are ideal for total beginners and just okay for intermediates on a three day visit. As has happened across much of Europe, the big thing is to offer a combined lift pass that covers many resorts, stick a few more euros onto the bill, and hey presto you now have a resort with a beast lift system offering hundreds of kilometres of pistes. Andorra now has 2 such super areas, Vallnord and Grand Valira. Vallnord (89km pistes) covers the resorts of Pal, Arinsal, Ordino and Arcalis. The Grand Valira (193km of pistes) covers the resorts of Pas de la Casa, Soldeu, El Tarter, Grau Roig, Canillo and Encamp.

In general, though, there's very little challenging terrain for expert riders, or at least nothing that won't take more than a few hours to tackle and a week here will bore the tits off any rider who likes to ride steep, fast and challenging terrain. However if you're a beginner or intermediate rider then there's plenty to keep you smiling.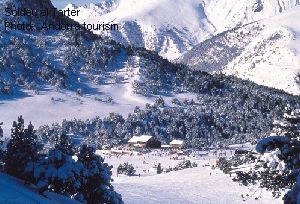 All the areas are located within a short distance of each other and can be reached via France or Spain. Andorra itself doesn't have any airport so the nearest international airport is Barcelona, or fly to Toulouse in France. There are regular bus services from both airports going to Andorra but transfer times can take up to 4 hours. There are some smaller airports such as Pau, Perpignan and even Zaragoza that many budget airlines fly into but you'll have to make your own arrangements once you land.
Useful addresses
Office de Tourisme de la Principauté d'Andorre Director: Sr. Enric Riba 26, avenue de l'Opéra - 75001 Paris Tel.: (01) 42 61 50 55 Fax: (01) 42 61 41 91 Minitel: 3615 Andorra E-mail: [email protected] Web: www.tourisme-andorre.net
Languages
Catalan-Spanish-French
Capital City
Andorra La Vella
Highest Peak
Coma Pedrosa 2946 m
Related countries