Billabong Ante Up 2011, Whistler
30 Jun-1 Jul 11, Whistler/Blackcomb, Canada
The first TTR event of the season, and its a 5* one with USD$50k to play with. Its a big-air contest with 30 riders battling it out on the 90ft kicker.
Billabong is proud to announce Billabong Ante Up, a 5star TTR World Snowboard Tour event back for its second year, taking place on July 1st, 2011 in Whistler, British Columbia on the top of Whistler Mountain. The event is the marquee kick-off event for the TTR World Snowboard Tour for the 2011-2012 season and is a qualifying event for the 6Star Billabong Innsbruck Air and Style event in February 2012.
Billabong Ante Up will take place at the top of the Whistler Mountain, steps from the PEAK 2 PEAK Gondola building with 30 of the world's top snowboarders competing in a Big Air format. Riders will hit an 85-90 foot big air jump, with $50,000 USD in prize money and valuable TTR World Tour snowboard points up for grabs. The top 10 riders from the 2010-2011 season will automatically qualify, with the remainder of riders being filled through a registration/selection process.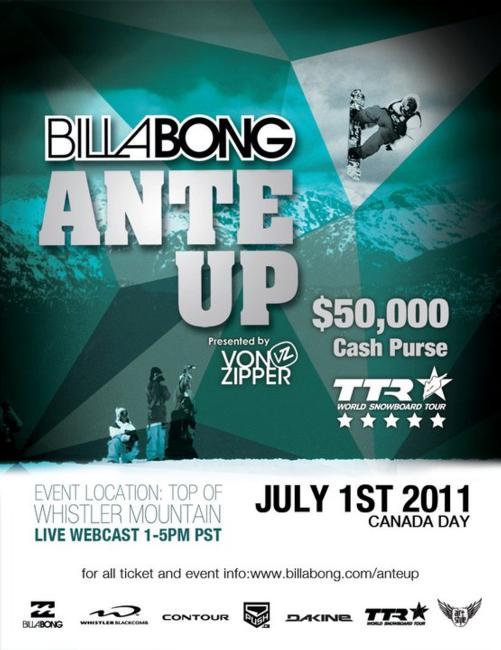 For more information visit www.billabong.com/anteup
Related Pages
Mens Big-Air Leaderboard
1. Corning, Chris (763.53)
2. Thorgren, Sven (677.76)
3. Gerard, Redmond (605.05)
4. Parrot, Max (596.99)
5. Mack, Kyle (588.06)
Mens Halfpipe Leaderboard
1. Hirano, Ayumu (935.30)
2. White, Shaun (912.63)
3. James, Scotty (847.95)
4. Ferguson, Benjamin (825.97)
5. Totsuka, Yuto (792.05)
Mens Slopestyle Leaderboard
1. Kleveland, Marcus (908.97)
2. McMorris, Mark (876.53)
3. Thorgren, Sven (848.77)
4. Corning, Chris (807.18)
5. Gerard, Redmond (805.27)
Womens Halfpipe Leaderboard
1. Kim, Chloe (1000.00)
2. Clark, Kelly (878.70)
3. Mastro, Maddie (875.23)
4. Liu, Jiayu (834.00)
5. Gold, Arielle (794.39)
Womens Slopestyle Leaderboard
1. Anderson, Jamie (933.33)
2. O`Brien, Spencer (839.51)
3. Norendal, Silje (678.85)
4. Rukajarvi, Enni (676.14)
5. Marino, Julia (635.32)
Advertisement