Freeriding, terrain parks and pistes
in Pitztal
Freeriding
You don't find many freeriders in
Pitztal
so you'll be almost guaranteed to ride powder every day and most of it un-tracked. A good option is to jump on the 4 x cable cars, the
Pitz-Panoramabahn
which take you to the highest point and head to the middle station, then drop off the back eventually cutting back onto black 33. From the top of the
Mittelbergjoch gondola
you can also take the hairy black 33 straight under the gondola, which used to be a good hiking spot before they built it.
Freestylers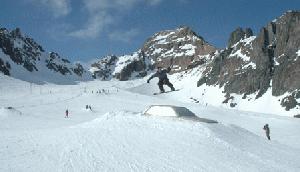 Freestyle is where Pitztal pulls it out of the bag. There's a pretty good rail and kicker park which is usually maintained, but don't be fooled by the halfpipe on the piste map as it has been a number of season since they built it last. The jib-park is located at the bottom of Mittelbergjoch II t-bar and features a number of boxes, a picnic table and buried car but nothing too large. The terrain park is now located further down, off run 36 and features 3 parallel lines. The beginner line consists of a number of rollers, the intermediate line has 3 medium kickers and a hip and the Pro-line has 2/3 large table-tops. Away from the parks you'll be hard pressed to find too many natural obstacles to fling off.

Pistes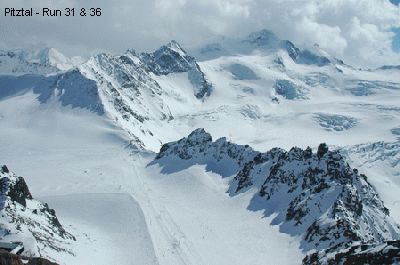 All the pistes and wide and perfect for blasting down but don't expect anything too steep.
Beginners
The designated areas are very small and a waste of time, however the blue 20 from the top of the Brunnenkogel is perfect for beginners but you'll need to negotiate the dreaded t-bar. The blue run from the restaurant to the bottom of the 6-person chair can get clogged up with through traffic but is the only chairlift served beginner area.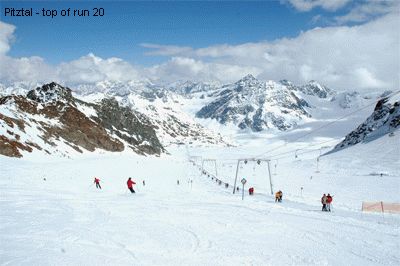 READ NEXT: Village life, accommodation & nightlife
Resort Information
Location
Advertisement