Freeriding, terrain parks and pistes
in Coronet Peak
Freeriding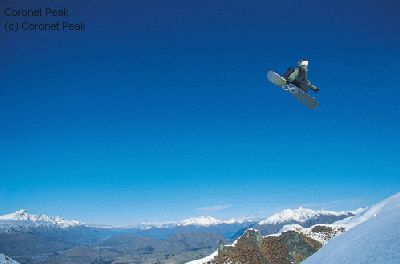 Freeriders will find the runs down from the summit pretty cool, especially the M1. Advanced riders should try out the series of blacks from the summit known as the Exchange Drop, which if you don't treat with respect will make your eyes water as you do DROP. Powder hounds looking for some steep, deep, fluffy stuff need to check out the back bowls or the terrain around the Sarah Sue run, but note riding down this area does entail a hike back up to the resort to get on the lifts again.
Freestylers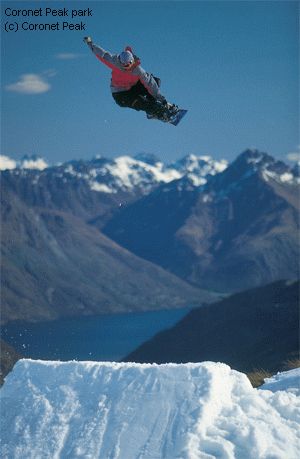 Freestylers should try out Sara Sue off Greengates for some big spine jumps, banks and natural quarter-pipes. Cornet is continually developing its terrain parks theres 2 FIS quality halfpipes and a terrain park either side of the Million Dollar run. Cornet gets pretty crowded so be careful. The patrollers, including some on snowboards, are serious about using look outs on blind jumps, especially down Exchange Drop, where you would do well to obey the No-Hit/No Jump and slow down zones to avoid any trouble.
Pistes
Carvers will enjoy the long blue trail known as the M1 as well as the runs known as Greengates and Million Dollar, which are pisted to perfection and great for leaving some nice long lines on.
Beginners
Beginners will find the best stuff is off the Meadows chair and alongside the learners poma. But there isn't a mass of novice trails here, although what is available is still good. The local ski school offers a 'Snowboard Starter' package for $60 and is well worth the money as instructors know their stuff.
READ NEXT: Village life, accommodation & nightlife