Aline Bock Drops Alska Edit!
Thu 23 January 14
Last season, a life-long dream came true for Aline Bock. After the former Freeride World Tour Champion had been riding early season powder in Arlberg and backcountry at her home mountains in Tyrol, Aline made it to the podium of the Freeride World Tourstop in Chamonix.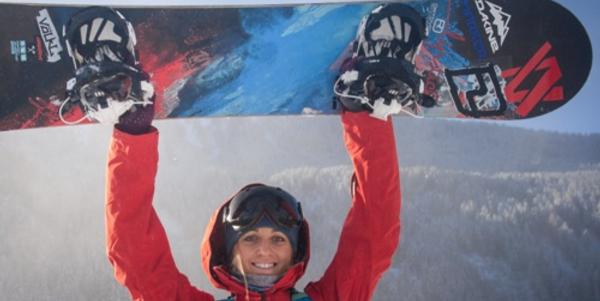 The former Freeride World Champ was about to jump back in the competition circuit again when she got a very special offer that she could not reject: ALASKA! So off she went to North America along with Lisa Filzmoser, Alvaro Vogel and Nicholas Wolken in early spring 2013 to explore the steepest mountains and longest untouched powder runs in the natural landscape of Alaska. Aline Bock's 12_13 season edit is a fine example of freeriding at it´s finest:
Aline ended her perfect season with a splitboard mission along-side her Voelkl Snowboards teammates on the Stubai Glacier in April 2013. Splitboarding, abseiling and drawing her own line on fresh faces far away from the crowds is how she peaced-out her triumphant winter!
All those who have interest and want to get involved in such an adventure can sign up for the Voelkl Split & Freeride Camps with Aline Bock. Together with a local mountain guide and the Voelkl team riders, you can tour and demo the brand-new 2014/2015 Voelkl Splitboard set-up at one of the five weekend camps. Check out our edit from the Voelkl Split & Freeride Camps and get ready for some great backcountry adventures!
The Voelkl Split & Freeride Camp Dates 2014 at a glance:
14.- 16.March 2014 Gradonna Mountain Resort Kals – Großglockner Osttirol
04.- 06. April 2014 Ski-optimal Hochzillertal Kaltenbach
11.- 13. April 2014 Hintertux Glacier
25.- 27. April 2014 Stubai Glacier
01.- 04. May 2014 Stubai Glacier
Partners: Voelkl Snowboards, Marker, Deeluxe, Ortovox,
ABS Airbag, Blue Tomato, Voelkl Performance Wear
All camp dates, info and registration at www.voelkl-snowboards.com
All info about Aline Bock at www.alinebock.de
Next Story