Arosa
"Good freeriding possibilities within the South-East facing bowl but the quality Back Country runs are out the back on the North faces but wise to take a guide. Home of the 2007 FIS World Champs & Giann Simmen. "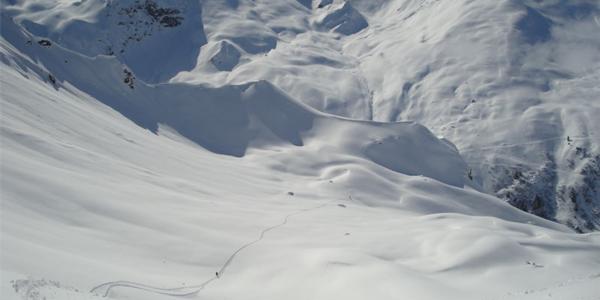 Mountain stats
Lift count : 3 x Cable-cars 2 x Gondolas 7 x Chairlifts 6 x Drag-lifts
Arosa is all Swiss, and a place that fits in perfectly in with how the Swiss marketing chiefs would have you see it. This is one of those cosy Swiss hamlets perched high above the tree drenched valley floor. This is a high altitude resort which sits above 1800 metres and is located in the eastern sector of the country not far from the town of Chur and the better known resort of Davos. However, unlike Davos, this is not a massive sprawling mountain town, Arosa is a quiet traditional swiss village loaded with all the charm you could hope for, although spoilt slightly by its glitzy stuck up image. Still, the area offers some good snowboarding opportunities and will make a week's trip a good one if you're a novice or intermediate rider. Advanced riders have very little to keep them interested beyond a day or so.

The 40 plus miles of open wide trails are serviced by a modern and well appointed lift system that can shift over 22,000 people an hour uphill with just 16 lifts. Although Arosa is not on the calling card of every tour operator, the few that do use this place help to cause a few lift lines and the odd bottle neck on certain slopes. The runs are spread out over three areas, that of Hornli, The Weisshorn and The Bruggerhorn. The most challenging terrain is located on the Weisshorn: "The Rettich "run under the Gondola and the shadier "Telephone hang" to the North East but both prone to Avalanches.
The central Tschuggen area has a Park with reasonable kickers & rails that launched local rider Gian Simmen to Olympic Gold.
The real beauty of Arosa is the Back Country runs that lead off the backside of the resort on the North faces. And they dont need much hiking ! The Safari Tour to Tschiertschen and on to Parpan and Lenzerheide is a quality tour that starts from Hornli and can be the middle section of an even longer tour that starts in Davos .The "Moilinis" run from out the back of The Bruggerhorn goes through rolling fields and down in to steep forests & descends 1600m over appx.6 km to Molinis in the Schanfigg Valley. For the first time it is worth taking a local guide as its easy yo get lost in thick forest or stuck in a canyon !
Resort Information
Location
External Links
World Ranking
Advertisement