Davos
The best overall resort in Switzerland offering something for everyone. Huge pisted area and excellent freeriding spread across 5 mountains, and not to mention the terrain park and 2 halpipes. Direct train services and good local services complete the package, but go mid-week to avoid the masses.
Summary
Freeride - 90%
Trees and excellent off-piste
Freestyle - 80%
Good pipes and parks
Pistes - 85%
Huge and varied run selection

Lift count : 11 x Cable-cars 3 x Gondolas 9 x Chairlifts 27 x Drag-lifts
310km OF PISTES (110 PISTES)

Pass (Low/High Season) : 44.00-56.00 Half-day , 55.00-67.00 Day , 255.00-300.00 6-day , 255.00-300.00 6-day linked area , 1110 Season pass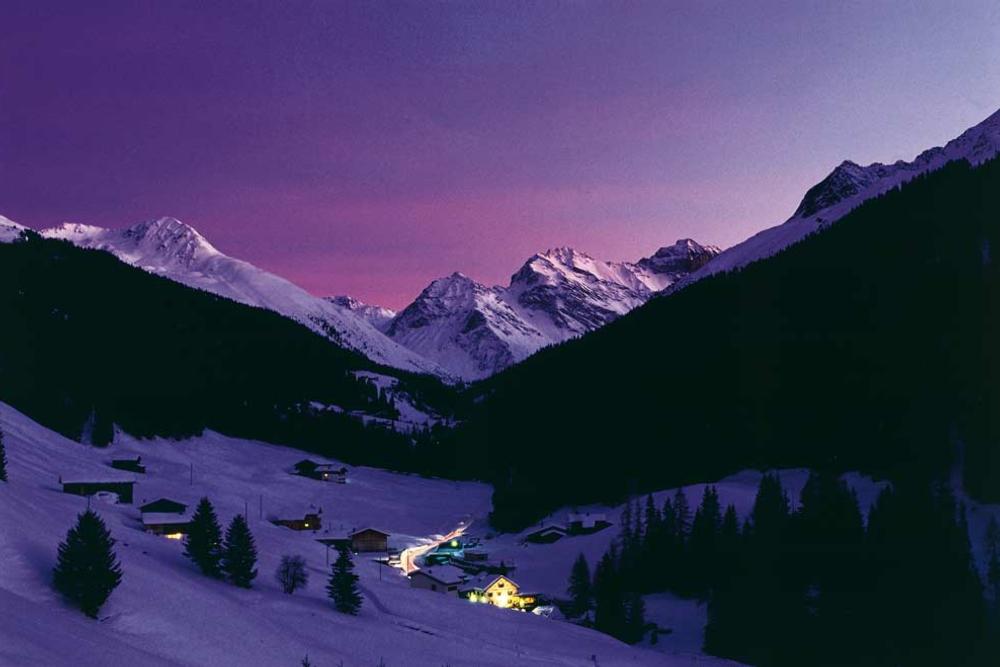 Davos Resort / Davos
Introduction
Davos is not just a major snowboard resort, it's also a massive town that offers just about all you need to have a cool time. This very happening place offers the lot; tons of deep powder, loads of trees, big natural hits, half-pipes, fun parks, a boardercross circuit and night riding. All this on 200 miles (320km) of fantastic snowboard terrain, on slopes that hold the snow well.
5 different mountains make up the area and you'll need to use the bus or train service to navigate around them, however each one of the areas has enough going on to make it hold your attention for at least a full day. Jakobshorn and Parsenn are the largest and most popular areas with connecting lifts on either side of Davos. The Jakobshorn is home to the 2 halfpipes and the main terrain park, all of which is kept in top notch shape; the halfpipe at the base is used for the O'Neil Evolution 6*TTR event at the turn of each year. Parsenn is the backbone of Davos, linking Davos Dorf to Klosters and has plenty of good long pistes and freeride options. From Klosters you can access the Madrisa area, which is a little quieter as is Pischa which offers some decent freeriding. Rinerhorn is the final area and is tucked onto the end of the valley. Its location and abundance of t-bars luckily keeps most people away, giving you first option to stick first lines into the open and wooded areas.
The World Economic Forum is held here at the end of January, bathing the place in 2-faced World leaders and Matrix Mr Smith lookalikes. Its almost impossible to find a place to stay, but makes a perfect time to shred to the slopes, with everyone else in town trying to pretend to the media that they care.
The resort is one of the first to open in the Graubunden area at the end of November, and the snow cover is usually very good right up until the closing date in mid April.
The town has a population of 10,000 and with it all the services you will need. It's not party central, but few places in Switzerland are, however there are lots of good bars and the town swells at the weekend with Zurich locals looking for a good time. Getting to and around Davos couldn't be easier. There are train services direct to Davos Dorf, Platz and Klosters and a train from Zurich airport will take around 2 1/2hours. Bus services link to the Graubunden hub town of Chur via the excellent Lenzerheide resort in 90minutes and there is a good regular free ski-bus services that links all the mountain areas.