Davos
The best overall resort in Switzerland offering something for everyone. Huge pisted area and excellent freeriding spread across 5 mountains, and not to mention the terrain park and 2 halpipes. Direct train services and good local services complete the package, but go mid-week to avoid the masses.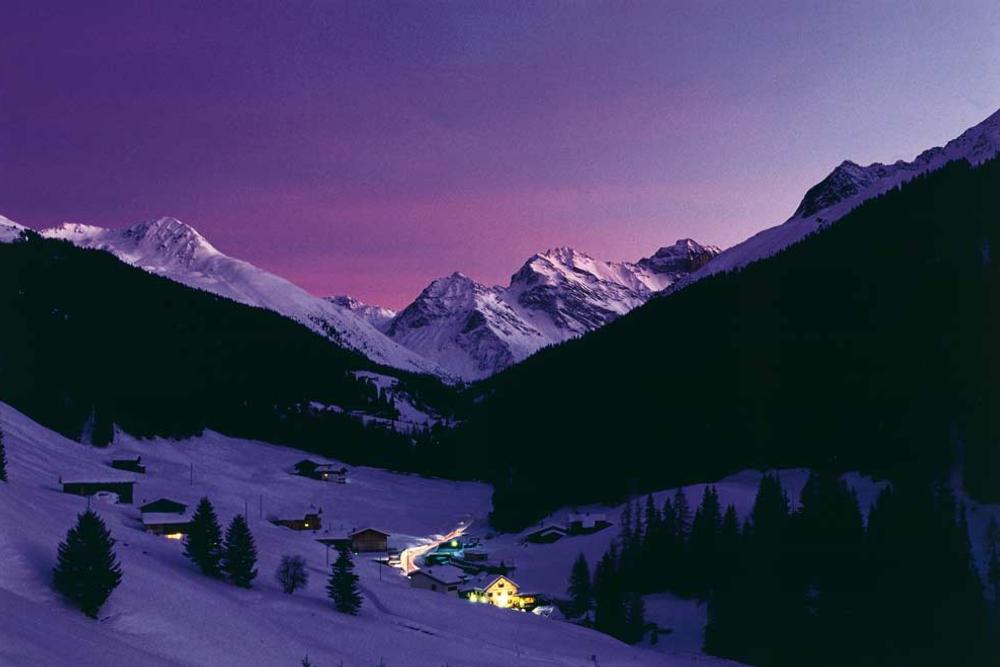 Davos Resort / Davos
Freeriding
Freeriders will wet themselves when they see the off-piste opportunities, which are mega and best checked out with the services of a guide. It is possible to find fresh tracks a week or two after snowfall.
The 2 freeride routes down to Teufi and Mülli from Jakobshorn are pretty cool, but you will have to bus back to Davos. From the top station (which is well above the tree lines), advanced or intermediate freeriders will find a number of testing blacks which mellow out into reds as they lead straight back down to the Ischalp mid-section. From here you could carry on down through the trees to the base or if you want an easy final descent, there's an easy blue that snakes it's way home, ideal for novice freeriders.
Parsenn offers plenty of easy opportunities off cat-tracks and parallel to the pistes, and there are some easy hike to some steep faces. There are also routes down from Parsenn above Wolfgang. Rinerhorn offers some good stashes off the t-bars that dominate this area. The best snow is always found on the Nülli t-bars and there's also a hike off the back which will take you into the Sertig valley, but a guide is essential. There are some good tree runs below the Juonlimider t-bar but not all the area is open for shredding. The more freeride orientation of Pischa is also excellent news.
Freestyle
Freestylers also get delicious feeding. Jakobshorn has a park with kickers/tables/superpipe/rails at the top of Jutz chair and T-bar. The park has 2 kicker lines. The medium kicker line features 2 smaller jumps followed by 2 larger ones, and the difficult line has a medium kickers followed by a massive one. Alongside the medium line runs a rail line, featuring a number of flat-down rails and boxes. The halfpipe starts halfway down the difficult kicker line, and is a 120m well shaped beauty. There's not much time to prepare yourself in the transition but it is shaped by their Zaug daily.
There is a huge 22ft wall superpipe at the bottom of the base out-side the Bolgen wooden apres bar. This beauty is used for the 6*TTR O'Neil Evolution competition which is held the first week in January. It is 100% snow-made and kept in near perfect condition the entire season. There will often be a few large booters built alongside them.
From late January Parsenn opens a good long Boardercross course on the Weissfluhjoch run.
Pistes
Piste lovers won't be disappointed here with 320km of runs to enjoy. There are loads of long leg burner runs off the Parsenn mountain, the 6 mile red run into the village of Serneus is full-on and you should be carving big style at the end of this one.
Beginners
At the top station of Jackobshorn, novices are treated to wide open easy flats which are serviced by drag lifts or a short cable car ride. Alternatively, there are plenty of very easy runs lower down on the Parsenn slopes. Beginners and anyone either wanting a brush up or to be shown around the mountain, should get hold of synergysnowsports.com. They run the only official school with British instructors and know the mountain like the back of their hands.