Verbier
Extremely good resort with some of the best extreme terrain in Switzerland and the world for that matter.
Summary
Freeride - 100%
Freeride paradise
Freestyle - 60%
A solid terrain park
Pistes - 90%
Pistes in all shapes and sizes
Beginners - 50%
Some testing lifts but English tuition
Value - 40%
Criminally expensive

Lift count : 2 x Cable-cars 8 x Gondolas 18 x Chairlifts 10 x Drag-lifts
150km OF PISTES (56 PISTES)

Pass (Low/High Season) : 53.00 Half-day , 63.00 Day , 345.00 6-day , 345.00 6-day linked area , 1316 Season pass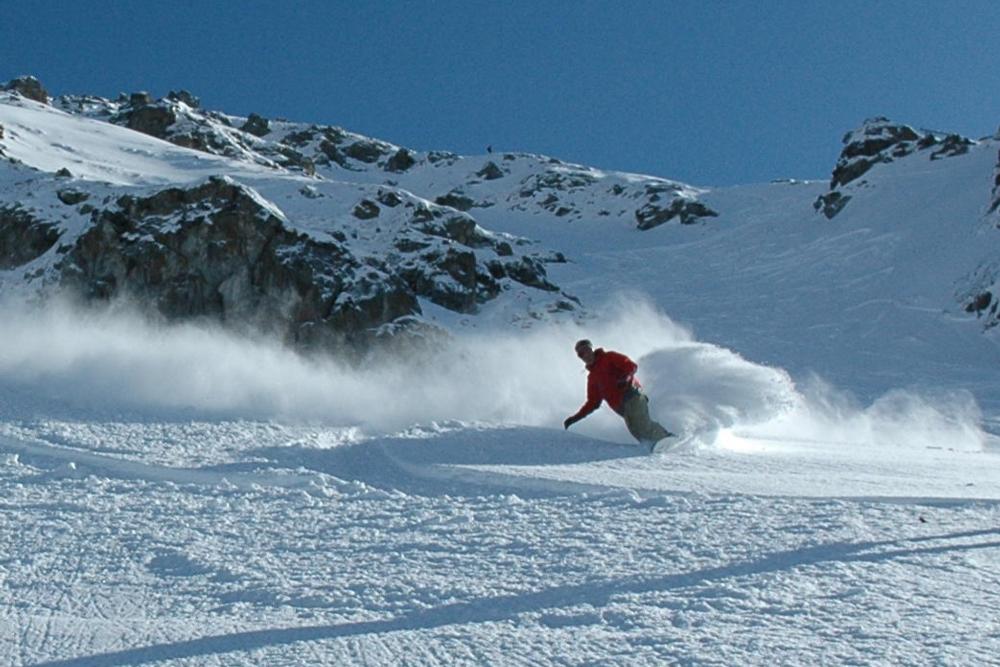 verbier powder / wsg
Introduction
Verbier is a world renowned name and attracts riders from all corners of the globe, well all who can afford her. Verbier is defiantly the Swiss version of Chamonix, attracting extreme snowboarders and skiers alike, but in true Swiss style and unlike Chamonix, it's a fully polished resort with a massive modern interlinked lift system and perfectly groomed pistes. In Switzerland people are polite to the extreme and drive in the most conscientious and considerate manner, but in Verbier put them in skis add a bit of powder and all that goes to hell. This may well not be the Swiss nationals, but if you want to get some fresh tracks you best sharpen your elbows and don't wait for your boarding partner to clear the slope, as if you hesitate a moment some nutter will leap over your head, from a rock above, and steal your line. That said the lines you get in Verbier are some of the best in Europe. Only a short traverse, from one of the many lifts, will open up into a wide and very long powder field or a steep shoot. Once the close stuff is tracked out, which is fast, get a guide and head off into some huge back county slopes.
Verbier is a massive ride area as it joins with Nendaz, Veysonnaz, La Tzoumaz and Val de Bagnas to create the 4 Vallees with 94 lifts and over 400km of piste, which can be serviced by one lift pass. There really is something for everyone even non boarders and is a must for all serious boarders, but none of its cheap. Check out the Nendez review for some hard core off piste routes in the 4 Vallees.
If you are after some specialist freeride tuition we recommend you head to Vivid Snowboarding they run a specialist snowboard school in Verbier and offer private lessons for all abilities and tastes as well as this these guys will also organize specific backcountry and freestyle camps, to find them head the Snowboard School desk is in the Surefoot shop next to Medran the main lift station in Verbier. Vivid also run snowboard camps which five full days of coaching. These have a maximum of 6 people per group and a minimum of 4 people per group.