Freeriding, terrain parks and pistes
in Mount Bachelor
Freeriding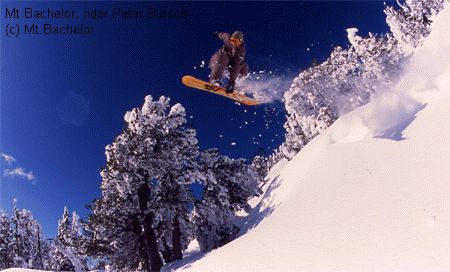 Freeriders-if the summit is open, be sure to make the 10 minute hike to the top of the Cirque Bowl. You will find here an extra large cornice (that grows to 45 feet) and the infamous Jamo Jump, where you can fling yourself silly. Also accessible from the summit chair is Mt Bachelor's Backside, where you are sure to find fresh snow and solitude.You can also find fresh tracks over toward the northeast side of the mountain, above and to the east side of the Rainbow chair. Here you will find some great terrain and untracked snow late in the day if you are a true powder hound. Be sure not to miss the traverse back to Sunrise lift if you want to avoid the 20 minute chair ride on Rainbow. If you don't mind the wait, you will be rewarded by Rainbow's great terrain.
If the summit isn't open (it won't be if there is even slightly inclement weather) you still have plenty of options for freshies.
You can use the new 2 mile long Northwest Express chair to access a vast amount of steep bowls and perfect tree runs. There are minimal man-made runs here, and the ones that are cut are narrow and winding. The slightly shorter and less steep Outback chair is also jam packed with great terrain and good tree riding.
You will also find untracked powder and fun terrain all over the resort, so don't be afraid to duck into the trees and explore. There are loads of hidden jumps, treeslides, transfers and windlips that change throughout the season, so ask a local what's hitting!
Freestylers
Freestylers- If the snow is decent, explore a little bit, keep your eyes open on the chair, and ask locals if you can follow them for a run. Due to the relatively flat terrain you might get dusted while following a Bachelor rider because you MUST keep your speed between jumps to go big. However, if you find the right line (there are hundreds of top to bottom natural jib runs), you will have a crusty snow covered smile the whole day. If you're man enough, ask some local jackass about the Compression jump, which on good days allows you to travel an unlimited distance before shooting up the side of the Cindercone. Other jumps you may hear mentioned in the liftline include Rainy Day, Taco Stand, Hollywood, DSQ, Barney Rubble, Triple Nipple, Breadloaf and many others. If natural terrain is not for you, first off you are an idiot, but secondly Mt Bachelor maintains four terrain parks for all levels of Gnarlyness, and a Superpipe. Countless up-and-coming, retired and seasoned pros call Bachelor their home resort for a reason!
Pistes
Riders who don't like bumps on the piste will find that Bachelor has them in mind and has grooms its trails to perfection. The runs off Skyliner and Pine Marten chairs are great intermediate and novice trails, but if you have the bottle then head to the summit and ride the unpisted open steeps of the Cirque - but don't bail!
Beginners
Beginners-this is a mountain that you'll appreciate, with its selection of good, easy green runs that can be ridden from the mid-section of the Pine Marten chair. The runs descend in a manner that allow you to steer onto a more interesting and challenging blue as you gain confidence. The local snowboard school is really good, and the staff know how to turn you into a fast freeriding god within a day or two. A day's all-in programme will set you back just $40, and for those who want to make it big, sign up for one of High Cascade's winter camps.
READ NEXT: Village life, accommodation & nightlife
Resort Information
Location
Advertisement