Big White
Excellent freeriding on crowd-free slopes, with great terrain for all levels. Local facilities are very basic but good. Night life is tame but okay.
Summary
Freeride - 80%
Trees and good backcountry
Freestyle - 85%
Impressive parks & pipes
Pistes - 80%
Well prepared slopes

Lift count : 1 x Gondolas 9 x Chairlifts 1 x Drag-lifts Other lifts 2 Magic carpet, 1 beginners tow, 2 Tube Lifts
2765acres OF PISTES (118 PISTES)

Pass (Low/High Season) :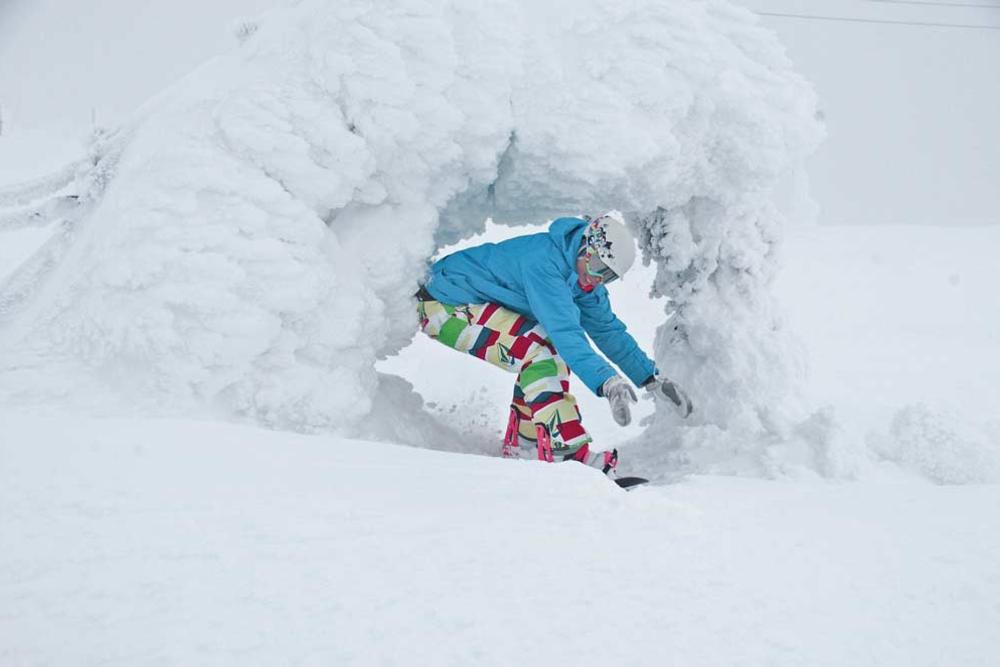 Big White Snowboarder / Big White Ski Resort
Introduction
Big White! Where? Located in the Okanagan Valley, 45 min from the large town of Kelowna, Big White is the world's best big unknown resort. It's a giant skatepark covered in snow and trees, and was recently bought by an Australian family along with Silver Star, who don't seem to be afraid to spend some cash - think  $125 million, with $4 million on the Telus terrain park alone.
Snowboarders in search of good mountains have been cruelly misled by the world's slack ski press for years, and Big White is a prime example. Until recently, knowledgeable Canadians have had a freeride paradise with an annual 7.5 metres of champagne powder largely to themselves. 
The recent large investment has resulted in an excellent lift system, good off-slope facilities and a lot of marketing. The secret of Big White won't last much longer. Most of the mountain is covered in trees with rolling pistes, although never uphill enough to make you walk. Almost every piste is littered with hits, allowing for you to get air numerous times on every descent. The lift system allows the crowd to disperse around the mountain making for crowd-free slopes, even on the busiest of days.
Big White is an ideal resort for mixed ability groups, there are miles of easy slopes which can be enjoyed by the advanced rider hitting the rollers, while the beginner can learn to link their turns on the same pistes.
The only thing missing here are wide open powder faces, with a max elevation of 2319 meters, the trees cover most of the mountain which leaves only small powder faces.
Piste map