Big White
Excellent freeriding on crowd-free slopes, with great terrain for all levels. Local facilities are very basic but good. Night life is tame but okay.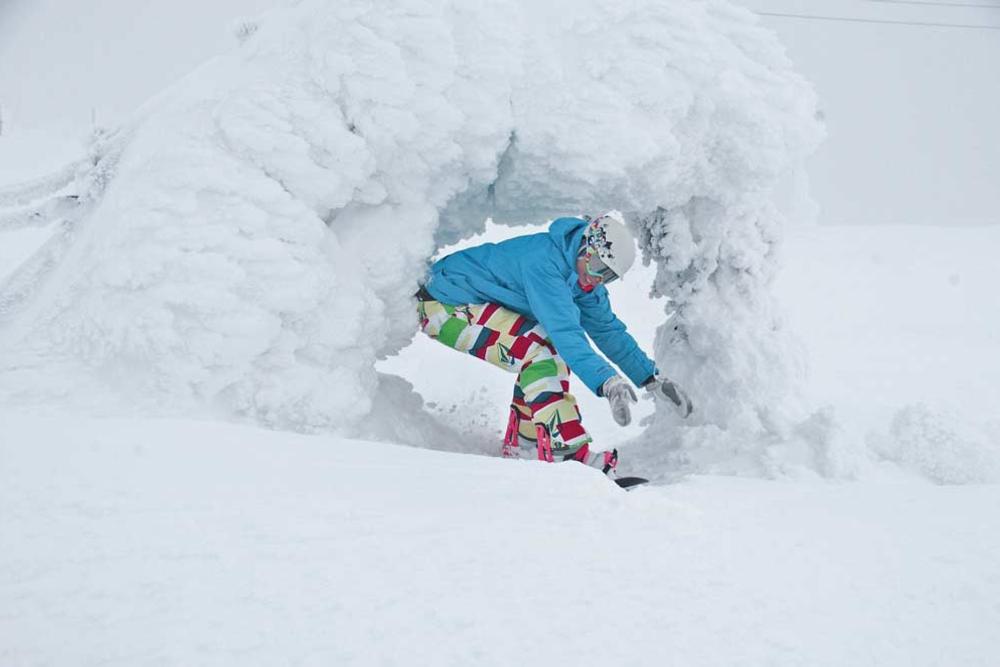 Big White Snowboarder / Big White Ski Resort
Freeriding
FREERIDERS get the chance to ride through trees, trees and more trees. From the Gem Lake Express chair you can access the Sun-Rype bowl area, one of the only powder faces, before dropping through the trees or onto the deserted rolling pistes below. Riders with balls (or equivalent) should take the Alpine T-bar and test their extreme riding on one of the double black diamond runs that are found on the Cliff, but only if you can ride and ride well.
Likewise, the black runs off the Powder chair are not for the squeamish. For those not quite up to the same standard, the blue runs off the Ride Rocket chair are worth a blast, as is the Blue Ribbon over in the West Ridge area.
Freestyle
FREESTYLERS have one of the best parks anywhere. Flynn Seddon has designed a fantastic park which is permanently managed and repaired by a dedicated team. All the rails and hits are clearly graded allowing for the perfect progression form hopping of small hits all the way through to flying off huge ones. The park has its own lift going diagonally over the park, so you can check out other peoples moves on the way up, its also lit up during night
riding night. Theres a great Board cross and two well maintained pipes, often used for national events. Outside the park the mountain is full of natural hits. If you like rollers
check out Black Jack and Black magic, if you want some small rock drops kickers and banks to turn on check out under the Rocket Ridge Express.
Pistes
PISTE lovers will enjoy Big White as the terrain is perfect for laying out some big turns, although none of the runs are overly wide. By taking any of the main lifts, such as Ridge Rocket or Bullet, you gain access to some fast slopes. Cougar Alley is full-on and for a long carve you should crank it from the summit of the Alpine T-Bar down to the base.
Beginners
BEGINNERS will dig Big White, as it is totally accessible from top to bottom with a good selection of easy trails. If you can link your turns then you can explore the mountain, but study your lift map first. Instruction is good and well priced, with a one day lesson, equipment hire and lift pass costing from CA$55.