Big White
Excellent freeriding on crowd-free slopes, with great terrain for all levels. Local facilities are very basic but good. Night life is tame but okay.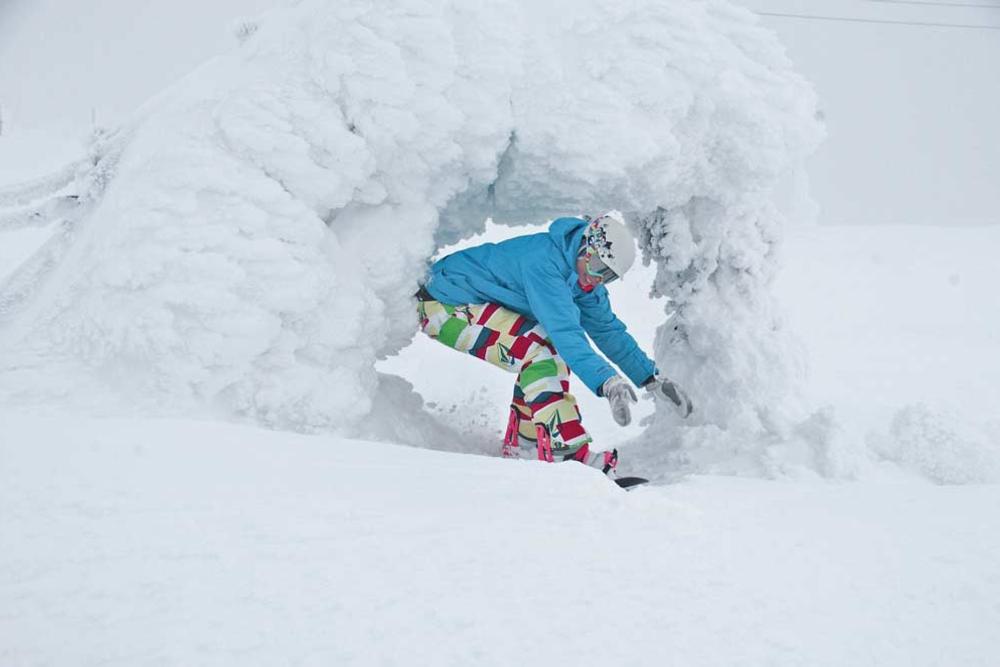 Big White Snowboarder / Big White Ski Resort
Town
Off the slopes, Big White is a friendly and affordable place, with lots of staff from around the world. Weekends usually see an influx of extra punters from surrounding towns and cities, but the place is never so busy as to be annoying - there is room for all. Local amenities are growing, offering everything you may need during your stay, with shops and other services being well located and within walking distance of each other. Riders with too much money can throw it away at the casino, whilst families can prance around on the 7500 square foot ice rink.
If that's not enough, then blow some cash on a snowmobile tour.
Food options
Eating choices are numerous and of an extremely good standard. For a hearty breakfast, check out the Ridge Day Lodge which opens from 8.30am daily. Snowshoe Sam's is good for a beer and a game of pool, it also shows football and is good for a burger. Soup & a sandwich lunch is best inthe Village Centre.
Accommodation
Accomodation in Big White is very good with much of it on, or close to, the base slope areas, which allows you to ride straight to your door. There are a couple of classy hotels to choose from and a few chalets. For groups, there is a choice of condominiums with prices to suit most budgets. The White Crystal Inn is a quality hotel located close to the slopes. It has a bar, restaurant, and fitness room, but note, it's not cheap. For a hostel, Same Sun Backpacker Ski Lodge is best.
Nightlife
By no means is it mad cap or about hardcore drinking, but you can make it lively. The Loose Moose is the place to get on the dance floor, while Raakels is the place to chill and listen to some live music.
For a bigger selection of nightlife, check out the action in Kelowna. It is only 45 minutes away, although you will need your own transport at night.
Location