Taking a heli in Switzerland by James Woodward
Beep Beep; Beep Beep; My senses woke me from a light sleep. My brain instantly remembered that today could be one of the best days of my life, but then I tried to move. My legs ached, my head throbbed and my mouth was drier than Gandi's Sandal. What had happened last night? Then, of course, it all flooded back…
So, here I was, at 6:30am the next day having a shower with dodgy guts and a thick head
My friend Steve and I had gone to meet Jason from Snowmotions in The Living Room bar in Flims at 6pm, after a full day's boarding. The agenda was "a quiet drink to discuss our forthcoming heliboarding". The trip was set for the next day with a 90% chance of flying, but the final decision would be made at 7am on the day.

The delicious locally brewed Flims Beer started flowing and after a couple we decided we should leave after a "final beer". After a further 5 "final beers" we went to eat, only to find the culinary options available to us were kebab, be it doner or shish. After our fine dining we had crashed out at 1am.

So, here I was, at 6:30am the next day having a shower with dodgy guts and a thick head. After a rushed breakfast with plenty of water, our Guide, Paul Degonda from AlpVentura picked us up and we headed to the Helipad twenty minutes from Flims. In terms of the weather, it was a perfect day with a clear blue sky and we were to be the first heliboarding flight of the year.

Thankfully I've been lucky enough to fly in a helicopter before, but as Steve hadn't I said he should sit next to the window. I have to admit I was a bit nervous and the hangover and chilli sauce induced stomach cramps weren't helping. After 3 sprints to the bog, we took off and were treated to an amazing view across the Glarneralpen range as we headed to the Claridenfirn Glacier.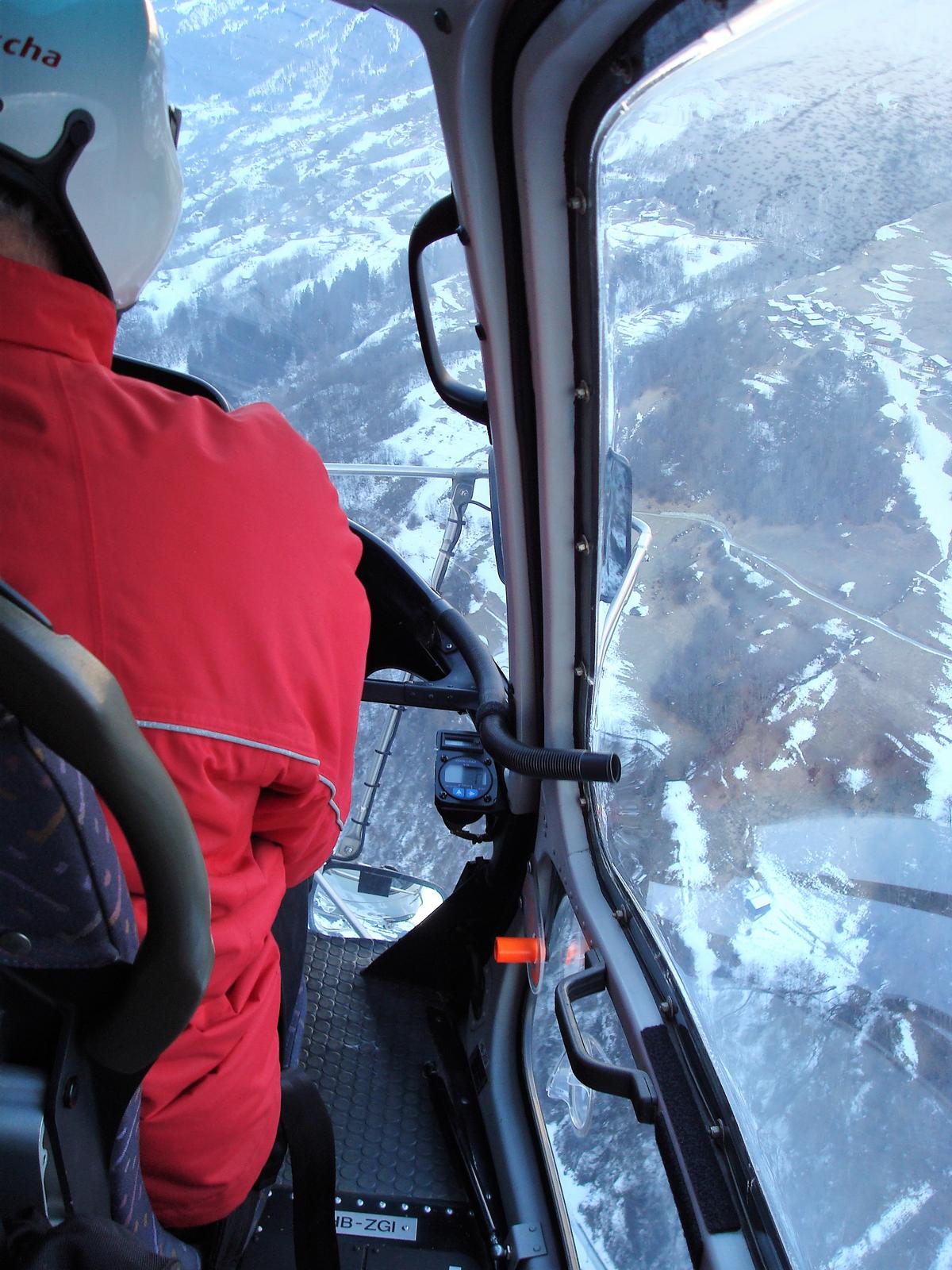 However, as we flew over one ridge and the ground dropped away from us, we hit some turbulence and the helicopter suddenly dropped and the tail (of the helicopter!) twitched somewhat. I turned and looked at Steve who was tightly gripping the door handle. He said "I want my Mummy", which made me laugh. The next thing we were landing on the flat part of the glacier, running out of the helicopter with our cameras at the ready.

Paul (the Guide) unloaded the boards and hung onto them for dear life as the chopper took off and blasted us with icy down wash. The pilot then did an Airwolf style dive and disappeared off into the sun. It was a truly amazing sight. Then it suddenly dawned upon me that it was 8:50am on 2nd January 2008. I was 3000 metres up, in the middle of nowhere with a hangover, and the only way down was through hours of powder. Surely this has got to be the best hangover cure ever!?

Unfortunately, in Switzerland, due to environmental concerns, leisure helicopters are only allowed to land in 32 places throughout the country. This meant we had to land on a flat area of the glacier and then shuffle with one foot in our boards for a while. After about quarter of an hour of skating, the gradient gradually increased and we were off, but with only one foot strapped in. No-one wanted to stop as more skating would be involved so we were straight lining and jumping over little wind lips one legged!

5 minutes later we came to a proper bowl and strapped in for a few turns. The others stopped for photos so I went in front and followed the Guide's tracks. He then told me to head straight for an area in the distance so I had the first line down the glacier which was marvellous until I ran out of speed and sunk into knee deep snow. It was 9:20am and then the walking commenced.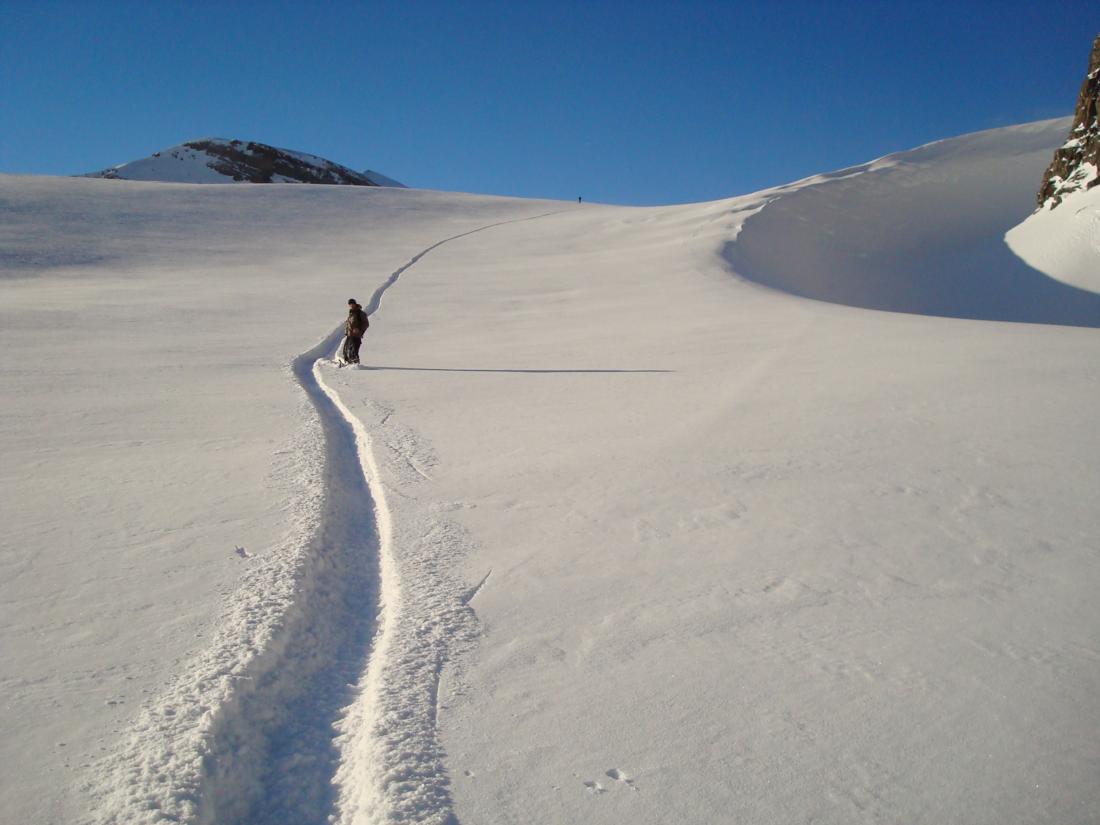 We took 45 minutes to walk past the ridge and then had a lovely long run down the mountain dodging or jumping off some large boulders. At this height the glacier receded so we could turn wherever we liked and use the whole width of the bowl. It was a lovely fresh powder run down, lasting an hour, until we came to some cliffs and had to cross an iced-over stream.
Then we had to hike up a steep river bank for a 10 minute lung cleaner, so we could strap on and blast down through many fields of powder, keeping our speed up as the terrain was quite flat. It was a dream sight to see the helicopter waiting for us at the bottom of a field so we rushed on board and 7 minutes later we were dropped at 2960 metres on the Planurahut peak.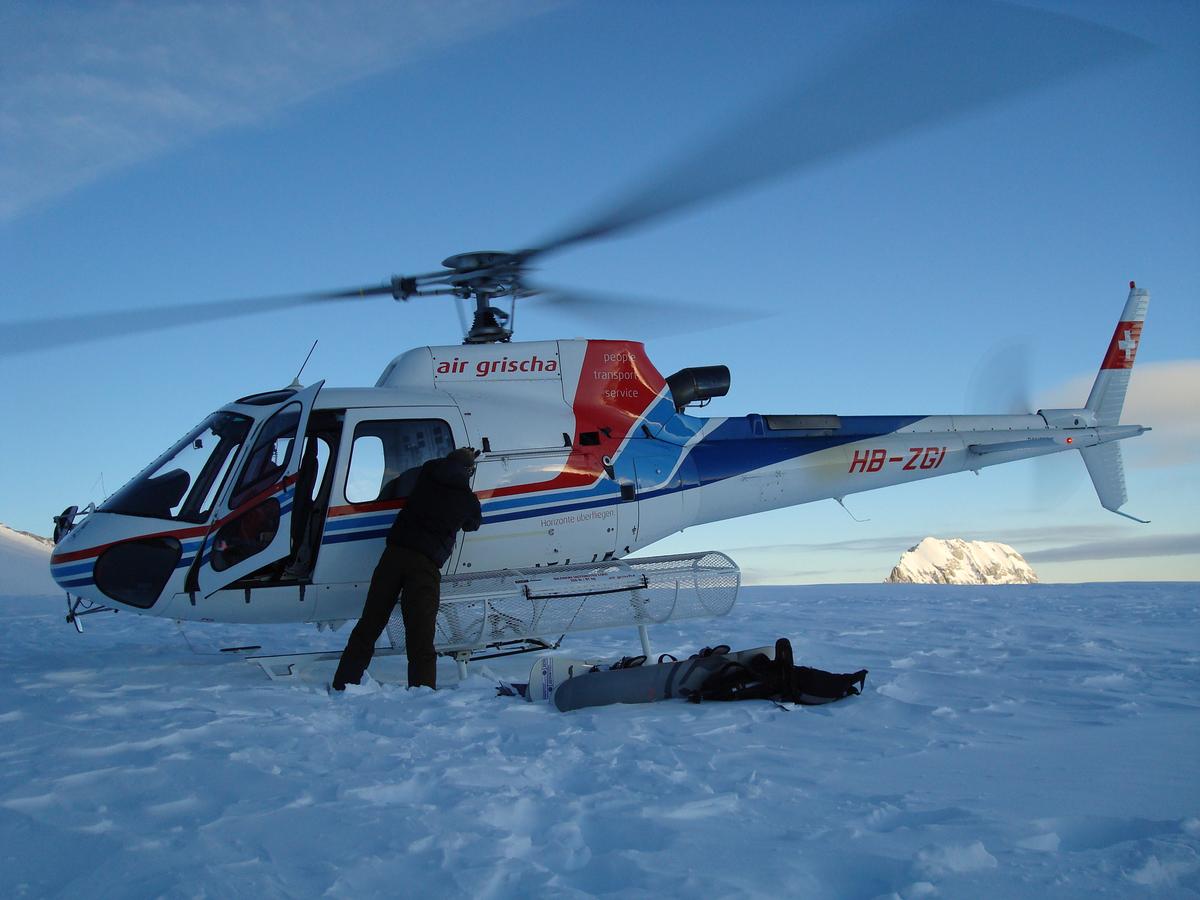 Our Guide noticed that the area below us was fairly wind blown so it would be better if we boarded from the actual summit. After another brief, steep, hike up a fairly narrow ridge with sheer cliffs either side we reached the summit at to 2992 metres. I couldn't look anywhere apart from the floor on the way up as I don't like heights so just had to get on with it!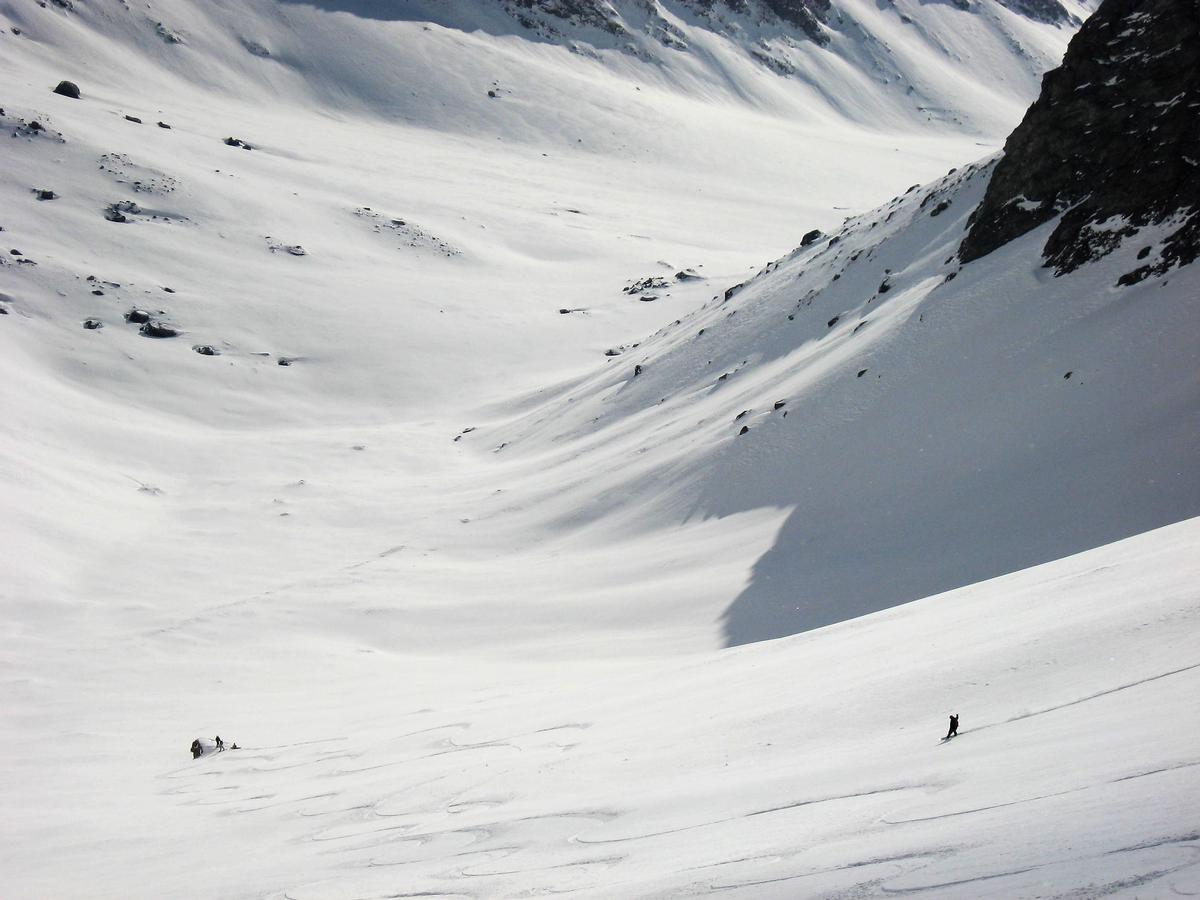 We were told to board "past the rock well, but stay close to it" and then head "over the ridge into the cloud". As we didn't quite know where we were going I approached it cautiously and decided to go first after the guide! I made a few nice turns then headed straight to stay high on the ridge and peered into the rock well. It looked at least 10 metres deep and certainly didn't fancy getting a closer look.

The 5 of us (2 Guys from Germany, Steve and Justin from BoardtheWorld), and the guide were then perched on the ridge with a steep, but wide couloir below us. Either side were rocks and due to the Föhn blowing in clouds rapidly we could only see the route intermittently. We went one at a time and all the others took their routes down with some snow sliding on the steep slope, but thankfully no proper avalanches. I was last to go and had a strange feeling being the last person perched at 2900 metres on a ridge completely alone, so I didn't hang around.

The couloir soon opened up into a nice easy bowl where we could make some full speed turns and hammer along through the valley next to another river bed.

After a while things flattened out and we stopped for some refreshments. Stupidly Steve and I hadn't realised how long the day would be and hadn't bought any food or water with us, but our Guide and two German guys helped us out and we also drank water from the river. Talk about getting native – just don't try it if you have sensitive teeth. Brrrrr!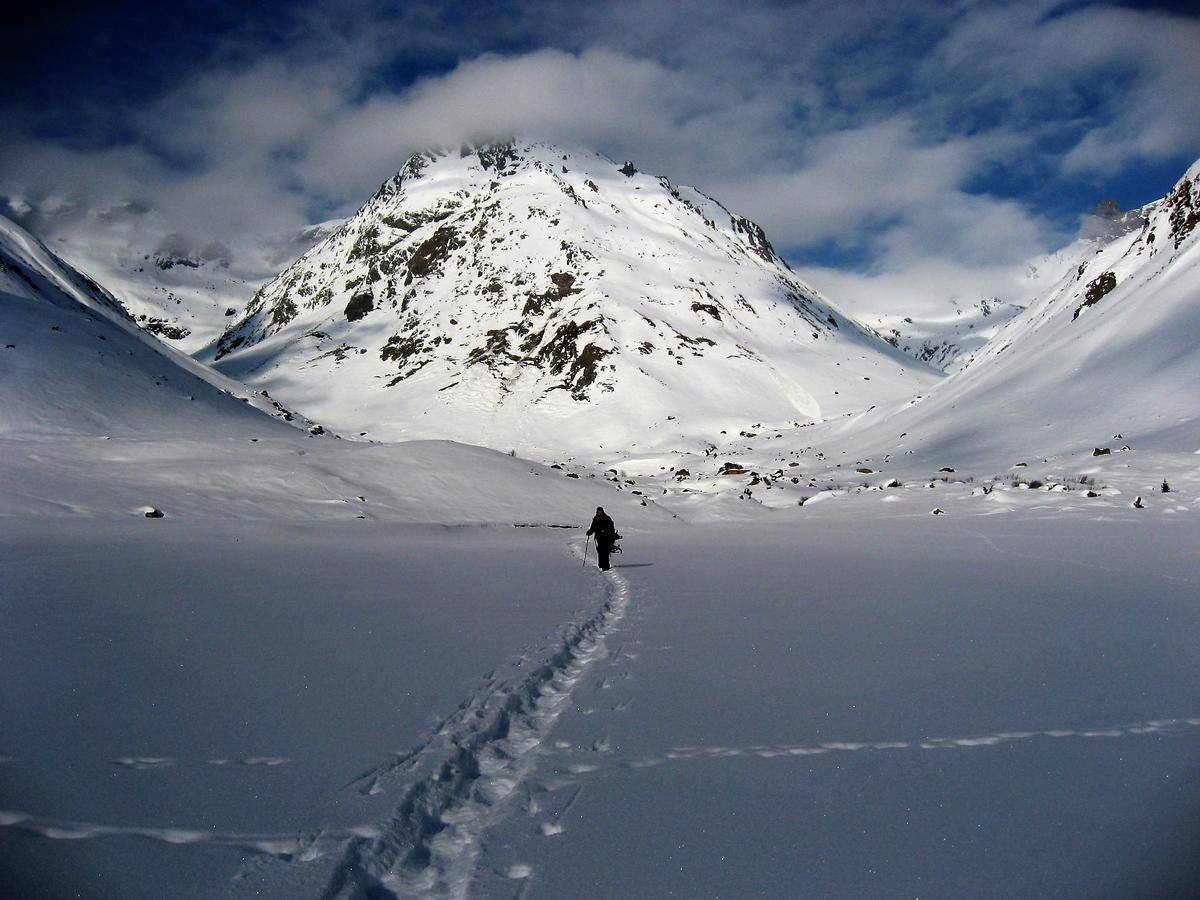 From here our trip was nearly over. Unfortunately there was another 2 hour walk out with some small parts of boarding in between, but mainly on flat paths. We did see some wild deer and mountain goats running around in the lovely scenery though.

In summation, this wasn't so much a leisure day of heliboarding, but more like snowboard touring with a helicopter thrown in! It was amazing to see the mountains from the sky and then be dropped off at such phenomenal untouched places. It was a sunny day of powder boarding away from civilisation, with friends old and new. For me, that is what snowboarding is all about, and it will stay in my memory forever.

In order to heliboard in Switzerland, you don't need to be a brilliant boarder, but you definitely do need to have some physical stamina for the hiking. For example, during our trip, one of the boarders (who shall remain nameless) collapsed twice with exhaustion.
If you want an easy day heliboarding, go to USA or Canada where they drop and pick you up wherever you want. If you want to see the Swiss Back Country and are prepared to hike a bit for it, then contact Air Grischa (www.airgrischa.ch) or Jason from Snowmotions

Immer Viel Spaß
Woody

With thanks to the guys at Air Grischa, Jason from Snowmotions & Paul Degonda from AlpVentura