SkiWelt Söll
Okay for beginners, but not the best area in the Ski Welt
Freeriding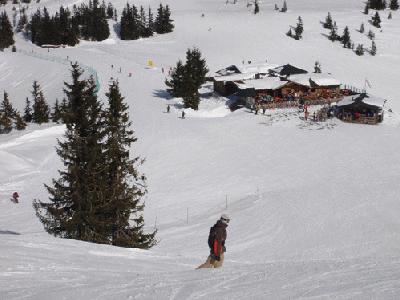 Freeriders will find this place a bit limiting. However, the black graded slope that runs down from the Hohe Salve is not a bad trail and shouldn't be treated too lightly, although if you sneeze you'll miss it. If the snow's good you can pick an off piste route down the south face on the mountain. Slope 2 which heads down towards the Brixen Gondola is good for a blast and has a high-speed 6 man lift to get you back up to the top.
Freestyle
Freestylers have little to play on; the best park in the area is at Westendorf. There is another park on the Ellmau hill but it's not up to much unless there's a comp on. The best thing to do for freestyle near Soll is have a beer and watch a DVD.
Pistes
Riders not wanting to be tested will be happy apart from the fact that the well groomed slopes can often be so busy with skiers that it's impossible to link up more than a few turns.
Beginners
Beginners will be in heaven if the snow's soft. Soll has wide well groomed slopes with hardly a t-bar in sight. Piste 25 is long steady and great once you can turn a little. The only down side is that it's low altitude means you're often on fake snow and the pistes can be bullet when falling on your knees.