Laax Suddent Rush Banked Slalom 2016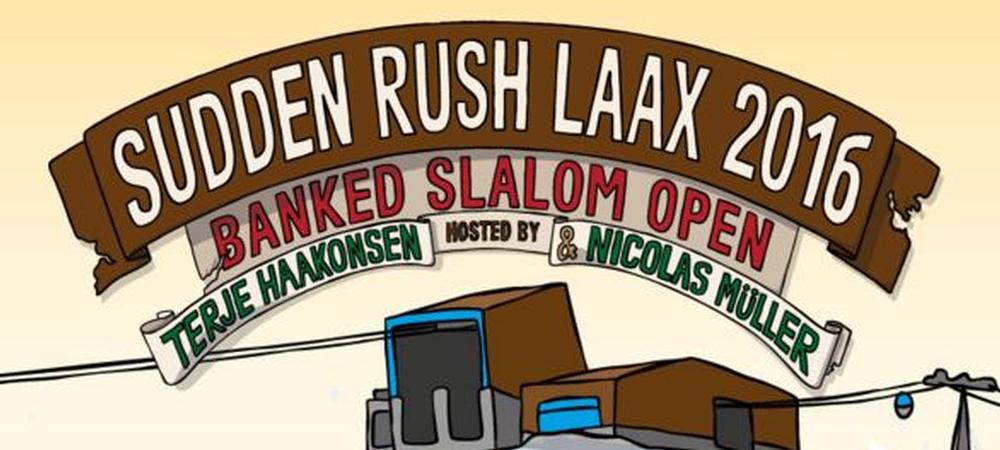 Over the next few weeks, the Mini Shred Contest (20 to 21 February 2016), the Sudden Rush Banked Slalom (4 to 6 March 2016) and the European Freeski Open LAAX (9 to 12 March 2016) will all add their own special touch to the events calendar. But all the events have in common: enjoying the snow, freestyle fun and LAAXroots.
Sudden Rush Banked Slalom LAAX 2016, hosted by Nicolas Müller and Terje Haakonsen
Before snowboards had edges, people simply rode banked. This is going back to the very origins of the sport – a time when LAAX openly embraced the snowboarding movement. Last season, LAAX got together with Sudden Rush to hold an event in honour of those early years. This was the birth of the Sudden Rush Banked Slalom. It was an instant success, hosted by two snowboarding icons, Terje Haakonsen and Nicolas Müller, who threw all their support behind the event – delighting the crowds with their enthusiasm and sheer passion for the world of snowboarding.
From 4 to 6 March 2016, the Sudden Rush Banked Slalom will return. This is an event which brings together snowboarders from every discipline: boardercross riders, racers, Alpine legends and current snowpark riders. And once they are gripped by banked fever, having fun in the open event quickly takes second place to the desire to claim top spot in the contest! LAAX creates a demanding, competitive course for the contest on the Crap mountain, leaving some sections in their natural state for cruising – the cool way to slalom. In short, this is the perfect addition to the events calendar at LAAX.
More than 150 riders, from youngster to master, have already registered to compete in the various age groups. There are still a few spots left, with registration open until Monday, 22 February 2016, at http://suddenrush.laax.com.
---
Related Pages