Snow Jamboree 2018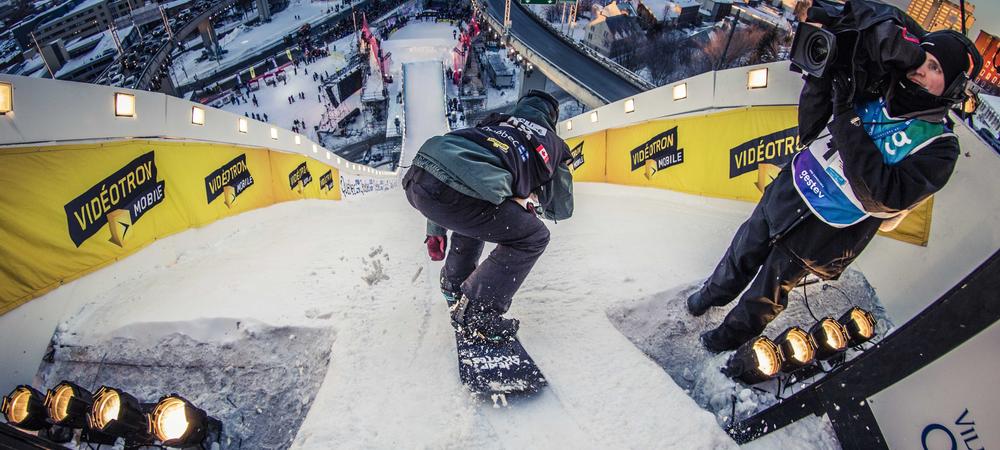 "Because it's an Olympic year, we had to condense our event programming, so we decided to go really big with the Big Air in Quebec City and bring home the season finals," said Patrice Drouin, President of event producer Gestev. "We normally host the Jamboree in extreme winter weather conditions in January or February, so we're stoked about these new dates. This year's event will have a whole new flavour. And we're hoping the FIS will warm to the idea of coming back to Quebec City in the springtime for future World Cup Finals!"
And because spring in Quebec usually means the return of the sunshine and milder weather, the Jamboree promises a warm welcome for visitors keen to check out the daytime or evening action. "The Jamboree transforms Quebec City's Îlot Fleurie into an incredible winter sports playground," said Patrice Drouin. "With the massive Big Air structure linking the historic upper and lower towns and the impressive sound, lighting and projection system we set up, it's going to be a weekend to remember right here at the heart of the city. Especially with all the event partners onsite to put on a show for visitors as well." The ever-popular Mountain in the City presented by Tim Hortons will be back with a new, improved formula to give kids age 4–14 a taster of skiing or snowboarding, and there'll be a jam-packed lineup of activities for all ages to enjoy, making the Jamboree a fun festival the whole family can enjoy over one long weekend. For one, the Jambo Kicker will be rolled out for the first time in Quebec City to give budding thrill-seekers an intro to four different rail modules. What's more, the BudLight Party Zone will be back all weekend long with a whole host of entertainment. More details coming soon at snowjamboree.com.
Local athletes confirmed
The winner of last year's Big Air, local athlete Maxence Parrot, has already confirmed he'll be back to defend his home turf in March. "It's a big year ahead for me with the Olympics, but I'm stoked I'll be wrapping up the season in front of a home crowd in Quebec City," said the snowboarder, who's going to be working with event producer Gestev again to weigh in on the massive ramp structure that will start to take shape at Îlot Fleurie in February. Meanwhile, local Stoneham rider and 2017 Women's Slopestyle World Cup Champion Laurie Blouin has confirmed she'll be back in 2018 after a simply exceptional end to the season last year. And in the Freestyle Ski discipline, Quebec skier Alex Beaulieu-Marchand, who finished 3rd in the FIS Slopestyle World Cup at Stoneham last winter, also plans to be back on home turf for the Big Air Finals in Quebec City in March. All in all, some 200 athletes from around 30 countries are expected to descend on Quebec City this spring.
About the Jamboree
Shining the spotlight on snow sports in Quebec City, the Jamboree has hosted the FIS Snowboard World Cup every year since 2005. This year's Jamboree runs March 22–25, 2018, showcasing the FIS Snowboard and Freestyle Ski Big Air World Cups sanctioned by Canada Snowboard and Freestyle Ski Canada. Quebec Winter Events Corporation delegates the production of this prestigious world-class happening to Gestev, a leading-edge company that has specialized in organizing sporting and cultural events in the Quebec City area since 1992 and has earned BNQ 9700-253 certification for responsible event management.
About Vidéotron
Vidéotron (www.videotron.com), a wholly owned subsidiary of Quebecor Media Inc., is an integrated communications company engaged in cable television, interactive multimedia development, Internet access, cable telephone and mobile telephone services. Videotron is a leader in new technologies with its illico interactive television service and its broadband network, which supports high-speed cable Internet access, analog and digital cable television, and other services. As at June 30, 2017, Videotron was serving 1,656,700 cable television customers, including 1,596,800 Digital TV subscribers. The Club illico over-the-top video service had 337,600 members. Videotron is also the Quebec leader in high-speed Internet access, with 1,627,200 subscribers to its cable service as at June 30, 2017. As at the same date, Videotron had 953,300 subscriber connections to its mobile telephone service and was providing cable telephone service to 1,220,900 households and organizations across Quebec. For the twelfth consecutive year, Videotron was ranked as Quebec's most respected telecommunications company in the annual Léger
---
Related Pages