Freeriding, terrain parks and pistes
in Waterville Valley
Freeriding
Freeriders may not have the biggest or most happening playground at Waterville, but you still have areas to cut, with plenty of trees to shred like Lower Bobby's
Freestylers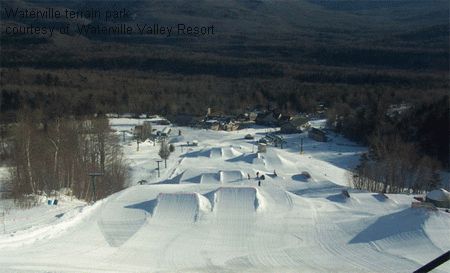 Freestylers and trick merchants have three fun-parks and a massive halfpipe to play in. The parks are spread out around the slopes and offer something for all levels.
The Exhibition Terrain Park (located near the base) is a pro-level park and features quarter-pipes, rail slides, table-tops and gaps and the superpipe.
The Boneyard (located on Periphery) is a step down for more intermediate riders. The little Slammer is for junior grommets, and has some 8-10ft jumps of various guises and a few wide rails.

Pistes
People who can handle a board on its side have just one steep double black to go for -
True Grit
. Alternatively, the cluster of blues that descend from the summit make for nice easy riding on pleasant and well groomed trails
Beginners
Beginners only have a couple of dull green trails at the base, with a number of over-rated blues higher up that can be tackled quite easily by those with a few days under their belt.
READ NEXT: Village life, accommodation & nightlife
Resort Information
Location
Advertisement