Mens slopestyle qualification day at Evolution
Thu 06 January 11
96 riders over 3 heats to try to grab one of those 15 spots in Saturdays finals, and the competition was fierce under the bright sunshine in Davos, Switzerland.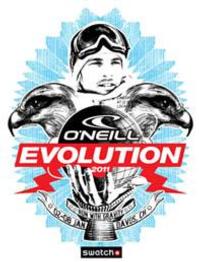 The O'Neill Evolution Men's Slopestyle qualifications produced a day of spectacular action and provided a taste of what's to come on Saturday when the finals get underway.
And it was two young Americans who made their mark at this stage of the 6Star Swatch TTR World Snowboard Tour event.
Winning the first heat with a score of 91.77 was the 23 year old American Eric Willett with a Switch Back 10 Double Cork off the jump and a Switch Boardslide Cab, 270 out from the up-pole.
"I was stoked that I got to go in the first heat," said Eric. "The jump was good and the landing was nice. It's a really well built jump."
Winning the second heat with the second highest score of the day – 90.53 - was another American, 17 year old Scott Moline.
"It's great to have two Americans at the top of the qualifications!" said Eric.
Scott pulled out an impressive Switch Back 10 Double – a trick he learnt just two days ago - before a Front Blunt 450 out from what he calls 'the Cannon Rail'.
"I'm stoked. It gave me a lot of confidence just knowing that the judges liked what i did," said Scott.
But if you think that's all these boys have – think again.
"I actually learnt a new trick yesterday," said Eric. But I will keep it to myself until the finals!"
"This is the first time I've learnt a trick in the middle of competition," he said. "But the jump is perfect and there's such a great level of riding with friends like Mark (McMorris) and Seb (Toots) to push yourself."
Add to that last year's Slopestyle winner Marko Grilc arriving into town today and it's guaranteed to be an exciting finals night on Saturday evening.
"It's cool to come back to a place where you have good memories," said Marko. "The set up looks really good. The jump looks even better than last year so I'm actully really excited to ride. It should be fun!"
British rider Nate Kern came ninth in his heat, and Jamie Nicholls had a bit of a mare coming 28th. 15yr old Lewis Courtier-Jones gained some great experience and came 27th in the first heat.
Heat 1
Eric Willett USA, 91.77

Torgeir

Bergrem

NOR, 80.87

Gian-Luc

Cavigell

a

SUI,

78.67
Robby

Balharry

CAN, 77.97

Aleksander

Ostreng

NOR 77.47
Heat 2
Scott Moline USA, 90.53
Clemens

Schattschneider

AUT,

87.07

Niklas

Mattsson

SWE,

85.40
Ville

Paumola

FI, 82.10

Emil Ulsletten, 80.27
9. Nate Kern, GBR 71.10 28.
28.Jamie Nicolls GBR 9.73
Heat 3
Tor Lundstrom SWE, 83.97
Matthias Vogt

GER,

81.70
Ville

Uotila

FI, 75.83
Thomas Franc

SUI,

74.00
Ethan Morgan

GER,

72.37
Don't forget you can watch all of tomorrows and Saturdays action live from Davos, right here on WSG, just head over to the video section
MEN AND WOMEN'S HALFPIPE FINALS
TOMORROW JAN 7th
9:00 9:45 HP Training Men & Women
10:00 12:00 HP Men Semi Final - 30 riders x 2 runs
12:10 12:20 HP Training Women
12:20 13:00 HP Women Final Runs 1 & 2 - 10 riders x 2 runs
13:10 13:25 HP Women Finals 3 rd run - 10 riders x 1 run
13:30 14:30 HP Men Finals - 10 riders x 3 runs
14:30 14:45 HP Prizegiving Women & Men
For more information visit www.oneill.com/evolution
Next Story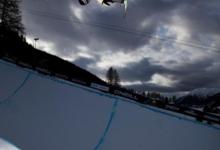 Fri 07 January 11, Davos, Switzerland
It was halfpipe finals day in Davos on Friday, and Christian Haller pipped Iouri Podladtchikov and Jan Scherrer in the mens final and Kelly Clark was head and shoulders above the field to take the womens title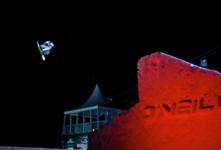 Sun 09 January 11, Davos, Switzerland
Seb Toots and Jamie Anderson have taken victory at the O'Neill Evolution 2011 slopestyle to close a great week in Davos.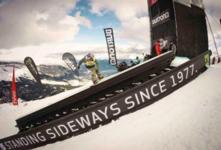 Wed 12 January 11, Laax, Switzerland
The Juniors kicked of the 2011 Burton European Open in the slopestyle and halfpipe competitions on Saturday and Sunday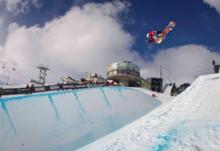 Wed 12 January 11, Laax, Switzerland
16 year old Jan Scherrer (SUI) won the Men's Qualifications, and UK rider Ben Kilner also qualified. Australian Holly Crawford, BEO 2007 Halfpipe winner, landed on the top spot in the Women's Qualification
Thu 13 January 11, Laax, Switzerland
Two-time Burton Global Open Series overall winner Peetu Piiroinen qualified in first place as 42 became 10 in the mens slopestyle semi finals. Britain's Jamie Nicholls narrowly missed out on the finals, finishing 13th.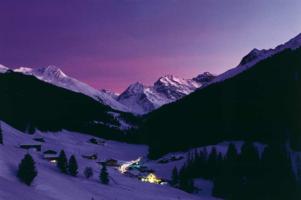 "The best overall resort in Switzerland offering something for everyone. Huge pisted area and excellent freeriding spread across 5 mountains, and not to mention the terrain park and 2 halpipes. Direct train services and good local services complete the package, but go mid-week to avoid the masses."

2-8 January 11
At the bottom of the Jakobshorn in its usual place, is where the 6*TTR Slopestyle and halfpipe competitions will be held
Mens Big-Air Leaderboard
1. Parrot, Maxence (766.67)
2. Hansen, Kim Rune (705.01)
3. Tonteri, Roope (655.50)
4. Kotsenburg, Sage (640.91)
5. Truchon, Antoine (602.84)
Mens Halfpipe Leaderboard
1. Gold, Taylor (882.80)
2. Bretz, Greg (858.51)
3. Hiraoka, Taku (847.16)
4. Hirano, Ayumu (833.53)
5. Vito, Louie (713.54)
Mens Slopestyle Leaderboard
1. McMorris, Mark (968.03)
2. Sandbech, Stale (916.33)
3. Parrot, Maxence (905.33)
4. Thorgren, Sven (802.90)
5. Kotsenburg, Sage (785.45)
Womens Halfpipe Leaderboard
1. Clark, Kelly (1000.00)
2. Kim, Chloe (867.90)
3. Bleiler, Gretchen (851.23)
4. Farrington, Kaitlyn (796.03)
5. Gold, Arielle (773.27)
Womens Slopestyle Leaderboard
1. Anderson, Jamie (966.67)
2. Rukajärvi, Enni (883.43)
3. Norendal, Silje (826.98)
4. Derungs, Isabel (816.28)
5. Pancochova, Sarka (805.10)
Advertisement