Horizon 2014 has already confirmed a jaw-dropping selection of industry and dance floor big hitters including Kerri Chandler, Âme, Andreya Triana, Roy Davis Jr. KiNK, Catz'N'Dogz, Phaeleh, Dub Phizix, and dBridge.
The names continue, with appearances from Snakehips, Enei, Applebottom fLako, Channel One, ViLLAGE, Planas and Geode displaying the breadth of music available across the week.
Horizon Festival 2013 from SHADEmedia on Vimeo.
Horizon 2014 is set to retain their status as a forward thinking music festival, while offering a slightly broader spectrum from the dance genre including House, Techno, Garage, Bass & Groove. The line up embodies these genres; incorporating many trailblazers on the underground scene, as well as those rather more established acts who offer a nod to the heritage of dance music.
On top of this huge line up, Horizon 2014 will once again offer the best value snow festival around; Prices start at only £279pp for 6 days and nights of cutting edge electronic music across 30 incredible parties at 20 unique venues, 6 nights of accommodation with pool or spa use and 5-day ski pass with access to the whole mountain.
Thoughtful extras for Horizon 2014 include free daily yoga classes in Bansko, spa packages, discounted ski/snowboard lessons for festival-goers and a dedicated festival hotel (The Gardenia), bringing a 24hour element to the party. There are also pro snowboarder freestyle demonstrations at the newly erected snow park, The Bansko Banquet and further secret one-off parties to be announced.
The mountain itself is the perfect snowy playground for all abilities, with something for everyone in the terrain department, barely any lift queues & affordable hire prices. Opening the festival to all-comers, packages for non-skiing other halves include the 'Horizon Festival Refresh & Revitalize' Spa & Beauty package. All mountain stages are also accessible by bus.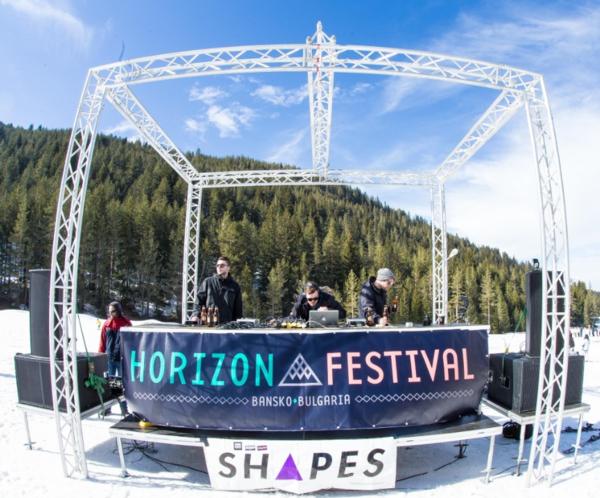 Horizon 2014 sees two secluded mountain stages, located just off the piste, with staging and production attaining heights not seen last year. The Secret Hotel has a newly erected Snowboard Park with pro rider demos and trick tips throughout the day. Still the place to be for Après Ski, with music from 2pm everyday, festival-goers can ski into The Secret Hotel at any time to catch some slick tricks and good sounds.
A further mountain stage just off the piste, The Forest Stage, is a spectacular yet secluded arena that uses the surrounding snow to enhance the atmosphere and deepen the sound. New to 2014, The Forest Stage will have an eclectic selection of DJs and live acts from 2pm everyday.
The atmosphere at both The Forest Stage & The Secret Hotel heats up throughout the afternoon, bringing a banging warehouse style party vibe (minus the walls) to the mountain later in the evening. You can ski into both mountain stages or get the bus up from town – it's up to you.
The party continues each night in town across 20 spectacular venues that include the Ibiza-like, multi level Euphoria, the Medieval Banquet Hall at The Gardenia, the cave-like Oxygen, disco ball heaven The Club and more. The music carries on until 6am, leaving just enough time to catch some zzzs before hitting the slopes all over again. No time for a hangover and certainly no place for one in the fresh mountain air.
Presenting a stunning backdrop to the festival, Bansko is located in the beautiful Pirin National Park mountain region in the South-West corner of Bulgaria. With a strong infrastructure for mountain sports, over 140 local restaurants, countless bars and clubs and an already established nightlife, Bansko provides a uniquely eclectic base for an urban festival. The friendly locals, reasonable prices, and lively atmosphere mean you can dip into the local scene any time for some serious wining & dining, home-grown music, vigorous dancing and traditional fun.
Bridging the gap between high-end ski festivals and a classic British festival; Horizon Festival guarantees 75kms of slopes at heights of 2,600m, no mud, no queues, affordable prices, and an incredible atmosphere. Think it's too good to be true? Come and see for yourself.
Website: http://horizonfestival.net/
Facebook: http://www.facebook.com/horizonfestivalHQ
Twitter: @horizonfestival
ARTISTS
Kerri Chandler
One of house music's originators, Kerri 'Kaoz' Chandler has been injecting soul into music since the early 90s; A legend, icon, inspiration & key figure. A truly forward thinking artist, Kerri blends tradition with innovation and fits the Horizon Festival ethos perfectly. Not only is the man himself playing for us, he is bringing a whole crew from MadTech Records out with him to Bulgaria – expect one hell of a party! http://www.kerrichandler.com/
Âme
This German DJ/Prodcution duo were undoubtedly responsible for triggering a revolution in Deep House, thanks to their own productions as well as their astounding DJ sets that draw upon the whole of dance music's history; seamlessly integrating many obscure old tunes with modern day gems. Their style is described as Detroit-influenced Deep House; grown up and serious yet cutting edge and playful; music with soul. We cant wait to see them in action. https://soundcloud.com/ame
Andreya Triana
Another truly astounding and unique addition to the line up, Andreya, is a British Singer/Songwriter whose live performances are legendary. Andreya is bringing her Full Band Live Show to Horizon 2014. She manages to make every gig feel intimate with her personable flair and, with new material being well received already, we anticipate great things from this soulful performer. http://andreyatriana.tumblr.com/
Roy Davis Jr.
One of Chicago's most influential house music producers, this man is a living legend and has a number of bona fide classics to his name; The most notable being 'Gabrielle' which can be credited as helping to kickstart the garage scene in the UK when the track was released in 1996. A highly sought-after DJ, Roy's hybrid sound of Disco, R&B, Dance, House, Soul, Hip Hop and Electronic music, is mixed masterfully alongside Big Room floor-stomping Tech-House tunes. https://www.facebook.com/roydavisjr
KiNK
Strahil Velchev a.k.a KiNK is an innovative, uncompromising producer, captivating DJ and exciting live performer from Bulgaria. KiNK tore apart the secret hotel stage at Horizon 2013 and his energetic and exciting live performance was, without a doubt, a highlight of last year's festival.
Playing again in his own backyard, KiNK is a true ambassador of the Bulgarian electronic music scene. Currently at Number 5 at Resident Advisor's Top 20 Live Acts chart, we are incredibly excited to have him back.https://soundcloud.com/kink
CATZ'N'DOGZ
Polish born duo, Greg and Voitek, offer a refreshing take on electronic music; whether you're charmed by their bass-heavy, colourful and groove-laden DJ sets, drawn in by their arresting live show or weaving your way through their illustrious output as producers, it's safe to say they are clearly at the top of their game. The pair launched Pets Recordings in 2010 with the distinct aim of bringing Poland's production talent to an international audience and their showcase will no doubt be a highlight of Horizon 2014. www.soundcloud.com/catzndogz
Phaeleh
Since his debut release in 2008, Phaeleh aka Matt Preston has developed an inimitable style of cinematic electronic music, which meanders between the shifting tempos and timbres of dubstep, garage, electronica and house music.
Still high in demand, with a busy DJ schedule across the summer and winter festival scenes, Horizon are set to hand him control of the stage once more. http://www.myspace.com/phaeleh
Dub Phizix Ft. MC Strategy
The creator of a new style of Drum and Bass music that fuses influences from all corners of the globe, Manchester based D&B producer Dub Phizix began his obsession with music over 20 years ago. Dub Phizix' DJ sets display his depth of knowledge of what makes a great D&B tune, mixing up often neglected classics with the freshest upfront material.
Accompanying him is one of the finest spitters the UK has ever produced, MC Strategy, whose ability to rhyme on the spot is on a par with any freestyler on the globe. https://soundcloud.com/dubphizix
dBridge
dBridge is a drum and bass producer whose career has stretched from the early 1990s. Under his own record imprint, Exit Records, dBrigde continues to transform and evolve and his DJ sets range from groundbreaking mid 90's dnb through to the wonkiest of contemporary electronica and everything in between. https://soundcloud.com/dbridge
Snakehips
This London Duo brand their music as Electronic Hip Hop and why not in this growing age of different genres? Having released a number of attention grabbing remixes and edits, Ollie and James have proved themselves as smart and soulful electronic producers with plenty more to offer. https://soundcloud.com/snakehips-1
Enei
Enei hails from St. Petersburg in Russia and it was way back in 2003 that he first got the taste for Drum & Bass. Now Russia's number 1 producer/DJ, things are only getting better; with a debut album under his belt, a slew of remix work continuing to pour in and praise coming from all sides. http://www.criticalmusic.com/artist/enei/
Applebottom
An emerging talent of the very highest caliber, Applebottom is another product of the seemingly bottomless Bristol scene. One of the fastest rising producers on the underground Bass scene, Applebottom (still in his teens) is now part of Mad Tech Records and leans towards the techno-fuelled side of house. Expect a playful deep house and techno set, scattered with tension-building percussion and soulful lyrics. https://soundcloud.com/ramshackle7
fLako
Currently based in London via Chile and Germany, fLako is one of Europe`s top producers. Described as an 'Ethereal Beatsmith', fLako offers listeners a soulful mélange of flavours, rhythms and tempos; a diverse sound that spans across assorted continents and musical genres. https://soundcloud.com/flako
Planas
Inspired by the rich music scene in Leeds Planas (aka Toby Davies) began producing in 2006. His unique, heavy, hard-grooving and soulful sound draws mainly on Dubstep, Dub & Hip Hop, and comes from the stunning use of live instruments over samples and an extensive background in live performance.
With his debut album, The Long Game, due to be released on Exceptional Records any minute now, Planas has a bright future ahead. https://soundcloud.com/planasbeats
Channel One
One of the world's greatest and best known dub reggae sound systems, Channel One was started by legendary selector Mikey Dread back in 1979, and is inspired by Bob Marley's belief in uniting people through reggae music.
With their hand built custom speaker stacks, Channel One Sound System provides a rich, heavyweight bass sound which compliments their tight selection of old and new dub reggae classics, all played from a single vinyl deck and accented with echos and sirens. MC Ras Kayleb compliments Mikeys deep draws with Rastafarian chants and song. http://channelonesoundsystem.com/
ViLLAGE
Hailing from Romania, Valentin Galati, also known as ViLLAGE has been making a name for himself on the underground scene across Europe. Those behind Horizon are passionate about sourcing the best in new talent and Valentin absolutely fits the bill. https://soundcloud.com/villagemusik
Flights
Frequent daily flights to Sofia from Manchester, Stansted, Heathrow, Gatwick and Luton. This route is serviced by EasyJet, British Airways, Bulgaria Air & Wizz Air.
Ryan Air flies to Plovdiv from Stansted twice a week
Transfers/Transport
Bansko is 2hours from Sofia and 3hrs from Plovdiv Airport.
Pre-arranged transfers are available between both airports & can be booked online
There are also public bus services available from Sofia
Car rental starts at £55 from https://www.economycarhire.com/
Packages
Additional nights & transfers can be purchased at booking
Additional Spa and Beauty packages can be booked at time of reservation
Ski hire can be purchased at booking for £15 a day (£60 for 5 days)
10% off Ski/Snowboard lessons for festival attendees (£25 for 2hour lesson)
Booking Charges Apply to All Costs
| | | | |
| --- | --- | --- | --- |
| Package | Hotel | Cost | Includes |
| Self Catering | Apart Hotel | £279 based on 2 or more sharing | 6 nights accommodation, 5 day ski pass & festival pass |
| 4* Bed & Breakfast | Gardenia | £309 based on 2 or more sharing | 6 nights accommodation, Breakfast, Pool & spa, 5 day ski pass & festival pass |
| 4* Bed & Breakfast | The Pirin Hotel | £339 based on 2 or more sharing | 6 nights accommodation, Breakfast, Pool & spa, 5 day ski pass & festival pass |
| Non Skiing Self Catering | Apart Hotel | £199 based on 2 or more sharing | 6 nights accommodation & festival pass |
| Non Skiing 4* B&B | The Pirin Hotel | £259 based on 2 or more sharing | 6 nights 4* B&B, Breakfast, pool & spa & festival pass |
| Festival Only | n/a | £120 per person | Access to all Horizon parties |
| Spa & Beauty | n/a | £69 per person | 3 one-hour treatments at The 4*Gardenia Hotel. |
Bansko
Bansko is the most popular and modern ski resorts in Eastern Europe and boasts a lively nightlife. The resort is located approximately 160km from the countries' capital Sofia. Bansko is situated at the foot of the Pirin Mountains (UNESCO World Heritage since 1983), which offers a beautiful backdrop to this traditional and culturally rich town.
Over the last few years, skiing in Bulgaria has become increasingly popular with UK tourists, due to its amazing value for money. Unlike many winter resorts, the hotels and other facilities in Bansko are situated exclusively in the town.
Unlike many winter resorts, the hotels and other facilities in Bansko are situated exclusively in the town. Bansko has over 140 local restaurants (mehanas), hotel restaurants and street cafés, plus 12 clubs and 2 casinos.