Freeriding, terrain parks and pistes
in Stratton
Freeriding
Freeriders
who like their terrain carved out of tight trees, won't be disappointed as all the trails are hacked out of thick wood from top to bottom. For a good ride fix, the rollers and banks on the intermediate/novice terrain of Black Bear and the Meadows should do the trick. Riders with some know-how should check out the
Upper Tamarack
and if you are looking for some open trees, Freefall is the place.
Freestylers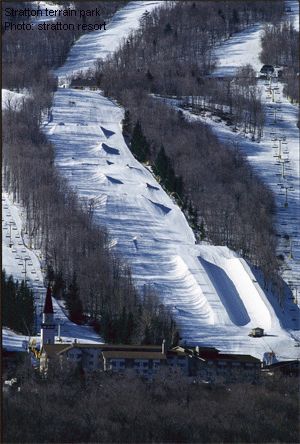 Freestylers hanging around the lower mountain can use the high-speed, six-person chair to access one of four fun-parks and the super pipe. All the parks have a series of table-tops, gaps and ramps, and to keep you interested they regularly build new hits.
The superpipe in the Power Park also has a loud sound-system, and floodlights for hitting the walls at night. The four parks are set up for Beginner to Expert, so when you enter a specific park you know what you're letting yourself in for. The East Byrneside park has a boardcross along side it's jibs.
Pistes
The runs are well pisted and wide enough to allow you to put in some fast, continuous runs, without too much fear of a collision. Pistes of note are
North American
,
Upper Standard
and
Lifeline
. They look after the pistes here but get up early and get them while there still corduroy as there are often ice patches come the afternoon.
Beginners
Beginners
and novice riders will have the whole of the lower mountain to explore, plus easy routes from the summit. The runs are particularly well suited for first timers, but at weekends the flat pitches become crowded, so expect a few collisions. Snowboard tuition is first class at Stratton with loads of lesson programmes.
READ NEXT: Village life, accommodation & nightlife
Resort Information
Location
Advertisement