Stratton
Good snowboarder's resort with ample, diverse terrain to suit all styles and levels. Lots of good local services, but a bit hit and miss!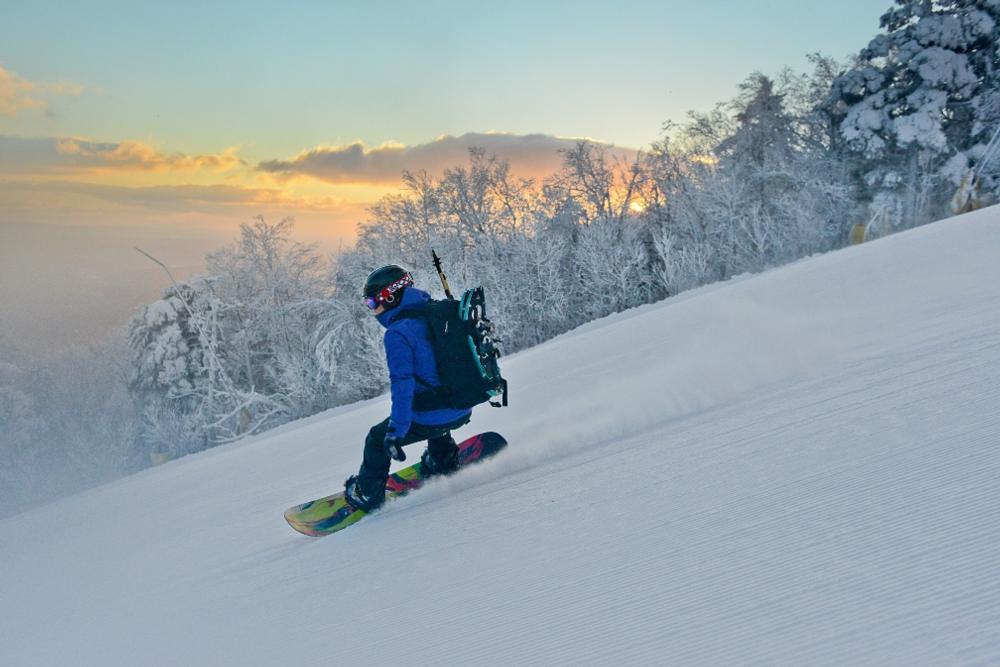 Stratton Snowboarder / Hubert Schriebl
Town
Whether you're planning a week's trip or a two week stay, you won't be disappointed with what you find both on the slopes and off them. At the base of the mountain is a compact alpine style village with more or less everything you need. The scene can't be described as wild and in your face, but it is out there and with plenty going on. The place has a warm and welcoming atmosphere, and although you pay for it, services are very good. Shopaholics will love it here as there are dozens of stores and malls to help while away your time. There's also a very good sports centre in Stratton, where you can tone up or have a massage.
Food options
Eating out options are a little disappointing, with the choice of expensive, bland food in a pompous restaurant, or cheap, bland nosh at a fast-food outlet. However, if you search around, you will find something to please your pallet. The Sirloin Saloon fries up some damn fine steaks and the Base Lodge Cafeteria dishes up a decent breakfast. Pizza lovers should check out the offerings from
La Pizzeria
while
Red Fox
is the Italian place.
Accommodation
With nigh on 20,000 visitor beds around the area, lodging options are really good, with the usual offerings of condos, lodges, fancy, over-priced hotels or basic B&B haunts. The Lift Line Lodge has rates from $70, while the
Stratton Mountain Inn
has rates from $90 and offers good services in the centre of the village.
Nightlife
Night-life
in Stratton is okay but not spectacular.
The Base Lodge
is the first port of call in the early evening hours, where you can play pool, pinball and a juke box pumping out up-to-date sounds. Later on, check out the
Green Door Pub
for a few lively beers, or
North Grill
to sample some blues in a laid back atmosphere.
Location