Mammoth Mountain
Freeriding
Freeriders have a great mountain to ride with trees, big bowls and loads of natural hits to catch air, especially in areas such as Huevos Grande and Hangman's Hollow. Experienced riders normally head up to the ridge reached by Gondola 2 Here there is a host of chutes that lead into a wide bowl, perfect for freeriders to show what they're made of.
The Cornice run is the one to go for - it's awesome and will give you a major buzz. If you really have the balls, check out Wipe Out, a double black run off Chair 23. If you emulate the name of this run, not only will it make your eyes water, but everyone on the chair lift above will be able to watch and laugh as you wipe out in style (give them two fingers and then get on your way).
Freestylers
Freestylers have a resort that is well in tune with their needs, whether you're after natural hits or purpose built jumps. A good spot to check out is the area known as Lower Dry Creek which is a natural halfpipe. Alternatively, the Dragon's Back gives the advanced freestyler plenty of air time. Theres 3 terrain parks suitable for all levels. The family park near Canyon Lodge has a beginners half-pipe (10ft walls) and a few boxes, but the real fun starts on the unbound parks. The unbound team keep the parks & pipes maintained perfectly all season. Depending on the snow conditions theres a huge number and variety of rails and the awesome 16'x36' wall ride. Unbound south is a great long park full of intermediate to advanced jumps, rails and boxes with lifts to take you straight back up.
The main unbound park is across by the main lodge with great views of the park as you ascend on the lifts crossing it. Here you'll find the super pipe with its 15ft walls and next to it the massive super duper pipe.
They try and open the pipes as soon as the resort opens, and when things start getting slushy in April, they build a spring pipe in the saddle bowl off the face lift express.
You'll also find some huge table tops, and jumps up to 80 foot in length. To the side of the main unbound is a good run through the trees full of easy jumps on the right and tables to the left. Jump straight back on the lift and you can easily get up and down in 10
minutes. For complete beginne
Pistes
Riders who like to see where they've been and leave their mark in the snow will love Mammoth. The runs are super-well pisted and make for good carving terrain, both for those wanting to go at speed or for the more sedate rider. Check out the trail known as the Saddle Bowl, where you will find a nice, tame, long blue run
Beginners
Beginners, if you can't learn or improve at Mammoth, then you're into the wrong sport. The area is perfect for novices, with plenty of green and easy progression blue runs at the lower sections and excellent snowboard tuition available. Sesame Street run off chair 11 near the main lodge is perfect for beginners, theres no pistes joining it so you won't get flustered by other riders, and under the chairlift are a series of bumps and boxes to try if you're not bruised enough already. Special beginner packages including lesson, lift and gear start from $87 and are well worth the money and the local snowboard school has a good reputation.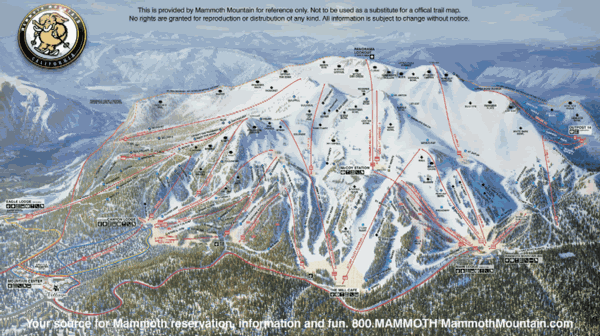 Resort Information
Location
Advertisement