Mammoth Mountain
Award winning parks & pipes, great freeriding, but try and avoid weekends.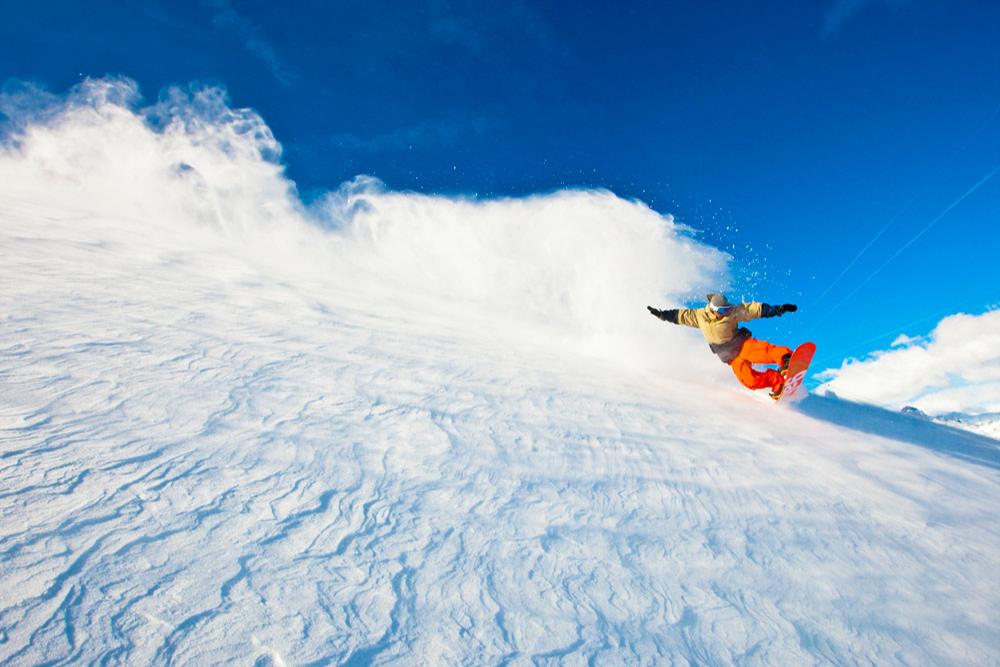 Mammoth Snowboarder / Mammoth
Town
At each base area you will find ski-in/ski-out accommodation and basic facilities. However, the best value is to stay down in the town of Mammoth Lakes which is 4 miles from the mountain.
Mammoth Lakes has a huge selection of good local services and although the area is not noted for being affordable, riders on a budget will still be able to swing it with a number of cheap supermarkets and low priced dorms to lodge at. For all your snowboard needs, Mammoth has a number of snowboard shops, including slopeside rentals and demo centres where you can leave your gear overnight.
Food options
You can get almost any type of food here, which can be expensive but there are various happy hour deals to be had. There are a number of cheaper food-stops in town, where you can dine on chicken or burgers, such as Slocums that offer a $4 happy hour burger and fries, and there's a large super market (Vons) for those self catering. Don't expect a huge choice of dining when staying at the Main Lodge area where prices are higher.
Accommodation
There's plenty of accommodation to be found in the town of Mammoth Lakes which is about 4 miles from the main lodge, but can be pricey. You will find condo-overload plus a few B&B joints and a hostel. The village on the edge of town has various apartments available and means you can practically ski-in/out every day, but at a cost.
The Mammoth Mountain Inn is situated at Main Lodge and offers some good room and lift deals. It's at the end of road, up the mountain, where nightlife choices are limited, but there is a free bus shuttle service to the rest of the resort. It's a great choice if you want to be one of the first on the slopes.
Nightlife
Night-life in Mammoth Lakes offers a more relaxed vibe to Europe, but is still quite lively with the main hub being found in town and the village.
If you want to hang with a more local crowd head down below the village to Slocums where there's a great snowboard shop next door (wave rave), or Outlaws, both of which are easily found when taking the free bus service. In the village Smoke Yard is a popular venue and is just across from Lakanuki's – which is open 'til late.
Be sure to check out the Clock Tower Cellar too. Yodlers at Main Lodge is good for a beer after a long day too. Most bars offer late afternoon happy hours with the price of a beer often less than $5.
Location