Squaw Valley
Freeriding
Freeriders wanting an adrenalin rush will be able to get it in an area known as the KT22. This particular area is rated double expert, and it's for no mean reason. Lose it up here and its all over - your own dear mother wouldn't even recognise your body, so be warned. Powder-seekers will find some nice offerings around Headwall, or over at Granite Chief which is a black graded area (not for wimps) with well spread out trees.
Freestylers
Freestylers have been able to ride Squaw's excellent halfpipes and parks for a good number of years. The Central Park fun-park features many obstacles to catch air and is one the best kept terrain parks in the US. The halfpipe is shaped with a Pipe Dragon and has perfectly cut walls that most resorts only dream about. You can also ride the park and pipe at night until 9 pm. Squaw also has a fast Boarder Cross circuit. Belmont Park is the place for novice freestylers while the Ford Freestyle Superpipe & Terrain Park has hits and a 550foot pipe!
Pistes
Piste loving freeriders, will not want to leave the amazingly well groomed slopes at Squaw. The runs off Squaw and Siberia Express are superb for laying big edged turns and can be tackled by all levels. Gold Coast is a long trail that will leave you breathless if do it in one.
Beginners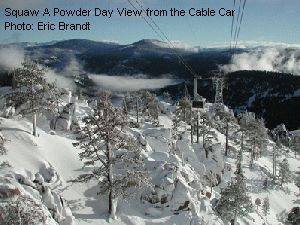 Beginners
have a great resort to start mastering the art of staying upright. Much of the novice terrain is to be found at the base area, while the bulk of easy trails are located further up the slopes and reached off Super Gondola or the cable car. Once up, the smattering of greens and blues are serviced by a number of chair lifts, so you can avoid the T-bars during the early stages of snowboarding.