Freeriding, terrain parks and pistes
in Squaw Valley
Freeriding
Freeriders wanting an adrenalin rush should head over to KT22. This particular area is rated double expert, and it's for no mean reason. Powder-seekers will also find some nice offerings around Headwall, or over at Granite Chief which is a black graded area (not for wimps) with well spread out trees. For the inexperienced free rider, there are numerous options throughout the resort including some cruisey off piste runs running down from Monument ridge and Siberia ridge. On a powder day, its also a good option to head over to Alpine Meadows
Freestylers
Freestylers have been able to ride Squaw's excellent parks for a good number of years. There are 2 main park areas with the largest being the Gold Coast Park, featuring many rails and kicker lines and is considered one of the best kept terrain parks in the US. The park offers medium to large features and constantly grows throughout the season. Belmont Park is the place for beginner to progressing park rats with plenty of obstacles to work with. Although not the longest lap, it has its own dedicated chair lift which is very handy.
Pistes
Piste loving snowboarders will not want to leave the amazingly well groomed slopes at Squaw. The runs off Squaw and Siberia Express are superb for laying big edged turns and can be tackled by all levels. Gold Coast is a long trail that will leave you breathless if do it in one. Its absolutely ideal for cruising, going full throttle - or even just learning. The pistes are superb.
Beginners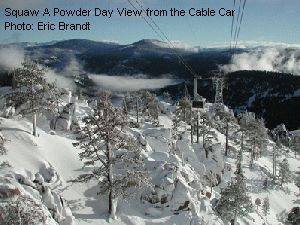 Beginners are blessed with a perfect mountain to learn on. There are fantastic learning areas at the base of Squaw as well as another area further up the mountain beneath the lifts of Baileys Beach and Mountain Meadow. Once up and running, the smattering of greens and blues throughout the resort are serviced by a number of chair lifts, so you can avoid the T-bars during the early stages of snowboarding. Its a great resort for beginner to intermediate riders.
READ NEXT: Village life, accommodation & nightlife
Resort Information
Location
Advertisement