Lake Louise
Excellent freeriding on four mountain faces, slap bang in the heart of the Canadian Rockies giving a sense of true remoteness. Nightlife here is limited, however Banff (population 8000) is located a 45 minute drive away and provides a livelier after hill scene. A 'Tri-Area Lift Ticket' lift pass gives you access and free transport to the trio of 3 ski areas in the Rockies - Lake Louise, Sunshine Village and Mount Norquay. The first two complement one another well in their own individual ways and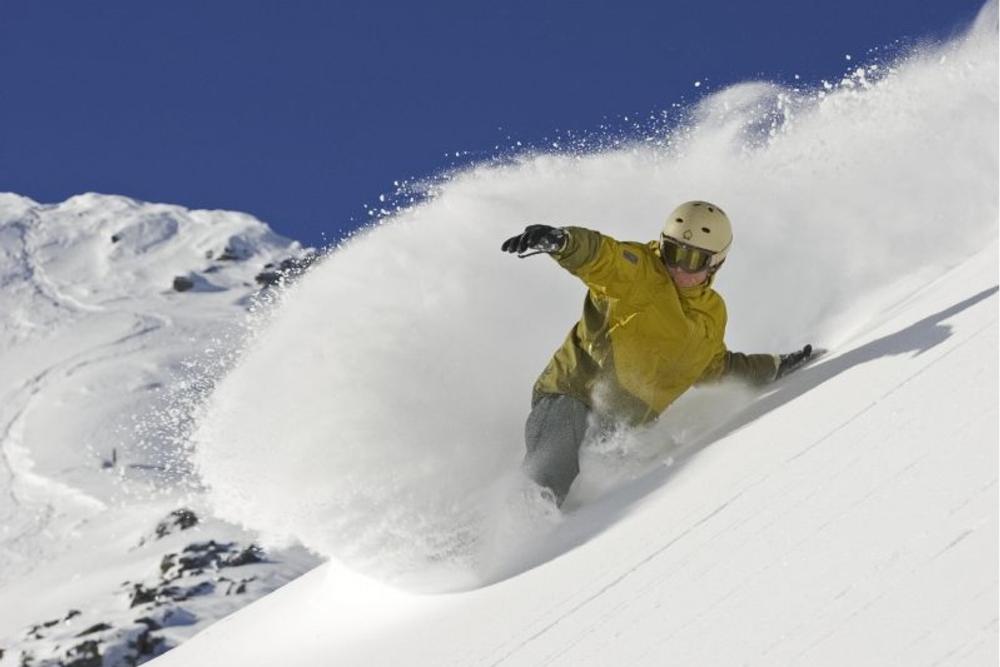 Lake Louise / Henry George
Town
Lake Louise's holiday complex is located a five minute drive from the slopes and can be reached by local shuttle bus. The village is tiny, with a handful of hotels scattered in the vicinity, and not much in the way of amenities. Its location as one of the last outposts of civilisation in the protected Banff National Park means that the place is pristinely pretty and immaculate, peaceful and quiet. But if a thronging, lively atmosphere is your cup of tea, this isn't the place for you. Famous for the picture postcard Chateau Lake Louise hotel (worth a peek around but beware the prices!), the place is more appropriate for loved up honeymooning couples  or nature lovers than fun loving partiers. Some visitors prefer to stay in Banff which is a 45min drive from Louise and offers a far greater choice of services.
Food options
 The licensed cafe at the hostel has the best value food in town. Food at The Post is great quality and probably the second most affordable option. Recommended, but definitely not cheap. Other than these places, restaurants are top quality but expensive. On mountain there's your standard fare, with a few generic places you can stop for a bite, from fine dining with full service to the standard burger and fries cafes.
Accommodation
Accommodation in Lake Louise is mid range to expensive with a number of classy hotels and lodges to choose from. Self-catering is also possible with some reasonable deals available for groups. If you have the cash, the Outpost Hotel is pricey but excellent and has a lovely bar. The hostel is the most affordable place to stay here, and is immaculate.
If you have a vehicle, a fun choice for a real sense of the area would be to stay at the well priced Great Divide Lodge. It's located, almost 'The Shining' wise,  at the summit of the famous Kicking Horse Pass in Yoho National Park and is just 10 minutes from the mountain. They offer a free ski shuttle, deals on rooms/lift tickets and there's often a party atmosphere. Here you're lost in a world with no time zone, right on the border between BC and Alberta, good for those raucous drinking sessions and popular with Canadians. There's backcountry access right from the door and snowmobiling and heli-boarding offered. Giddy up!
Nightlife
What nightlife?! Nightlife is minimal here, and what there actually can be found is on the naff side. You can ride to the mountain base and apres in the 'Kokanee Cabin' (live outdoor music found here at certain busy times e.g. Easter) or head to the tiny 'town' and try the few bars there. The hostel cafe do decently priced pitchers of beer, or if you're after a cosy vibe, head for The Post (located inside the posh Outpost Hotel) with its huge real open fire. Explorer's club is typical Canadian nightclub, with a pool table and 'cool factor' non existent. Overall, it's best to stay in Banff if you want a fun, late night out. 
Location