Vancouver
Vancouver is located in the state of British Columbia (BC) in the south west of Canada. It has a population of 600,000 and with its large waterfront and bay area it is repeatedly voted best metropolis in the World to live in.
colwidth:6 firstColWidth:12
Vancouver is located in the state of British Columbia (BC) in the south west of Canada. It has a population of 600,000 and with its large waterfront and bay area it is repeatedly voted best metropolis in the World to live in.
On arrival at Vancouver Airport (YVR) it's worth looking out for the famous art collection including sculptures reflecting Calyoquot and Pacific Northwest Aboriginal traditions. On the way to Passport control admire the large waterfall and other large Pacific North West inspired wooden sculptures. International Departures contains a large pond surrounded by further sculptures influenced by Inuit history.
Activities available in the city and nearby are very diverse from whale watching to mountain biking, wine tasting to white water rafting, shopping to zip lining, and paragliding to, of course, snowboarding. The city's location next to the Pacific allows chefs access to delicious fresh oysters, mussels, crab and prawns with nearby rivers providing the famous salmon, so dining is always a pleasure.
Beer, Pale Ale and Lager lovers have a massive choice as Vancouver hosts eight Micro breweries and BC itself hosts over 50. If vino is your tipple, the state also has over 100 wineries producing award winning quaffs.
Free WiFi is available almost everywhere in the city, even up the mountains! Most of BC has followed suit and it's often possible to gloat on Facebook from the bottom of the slopes or your favourite bar.
Eating and Drinking
Thanks to the cosmopolitan population, there are an abundance of restaurants from many cultures including China, Japan and India, scattered over different suburbs.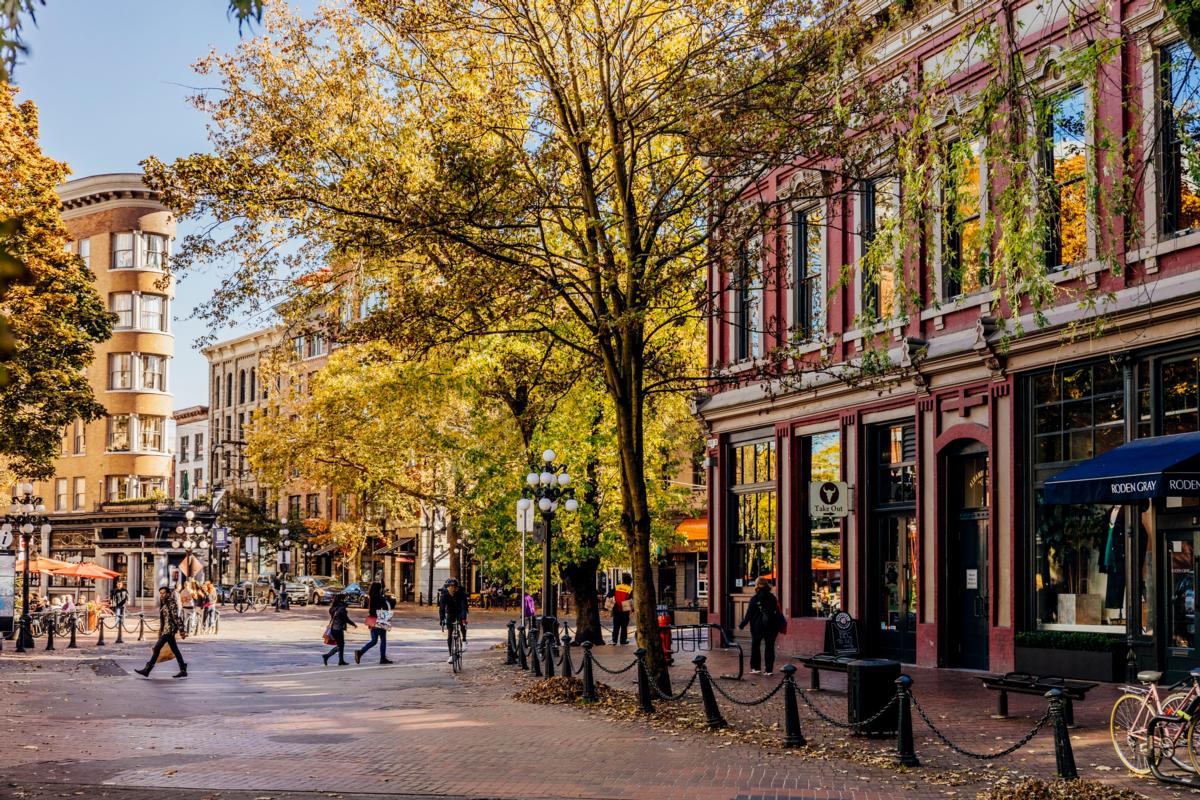 Gas Town was the birthplace of the city, dates back to 1867 and is home to the famous Steam Clock. It's a quirky area with many bars, restaurants, groovy clothes stores and art galleries, all of which are inhabited by interesting characters. It caters more for the 30+ crowd and places of note are:
Boneta: mid to top price west coast cuisine restaurant , Chill Winstons: medium priced bar and restaurant, Lamplighter: medium priced pub fair and beers and finally La Casita: serving "Mixicana" medium priced food
Commercial Drive is more studenty with many vegan eateries and coffee bars whereas Granville Street is heaving with bars and nightclubs that stay open the latest in town. Remember to take photo ID if you want to go clubbing with this young crowd!
Hit Davie Village if you like Rainbow Flags, coffee shops and corresponding clubs! On the North Shore, head for the Rusty Gull or Pemberton Station Pub.
If you're in Downtown, check out Red Card's cool hip modern take on a sports bar, or Subeez for good drinks and food in chilled electronic ambience. Alternatively Chambar offers a cool medium to expensive Belgian restaurant with funky cocktails . After a few beers, look out for the street vendor hot dogs, "with a Japanese twist". These are served with seaweed and various oriental sauces giving a taste sensation.
Accommodation
Downtown Vancouver hosts an excellent hostel which has friendly staff, awesome facilities and runs daytrips to the mountain. Alternatively there are all the normal types of hotels that any large city can offer Downtown and on the North Shore itself.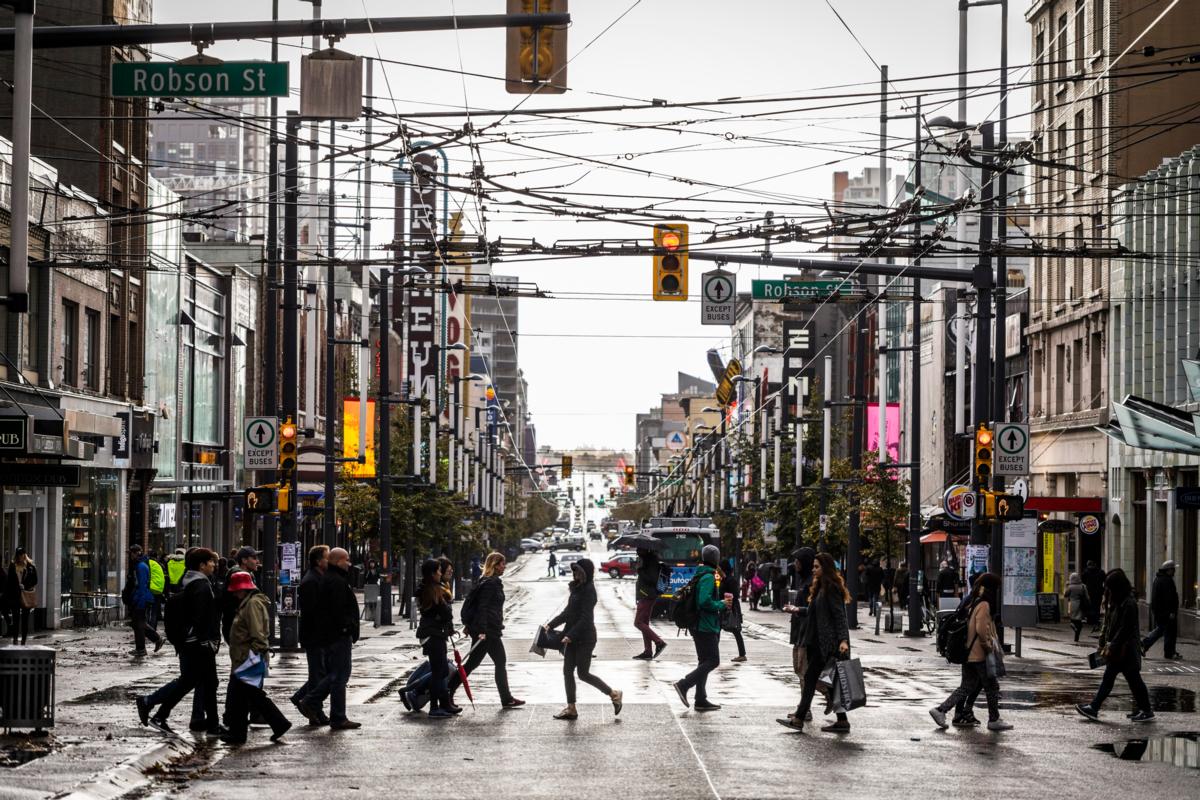 A great, reasonably priced, quiet, central place to stay is the Times Square Apartments, on Robson and Denman. It offers extremely spacious one or two bedroom suites, offering free wifi, flat screen TV, IPod docking station, and gas flamed fire. There's also a rooftop barbeque available with an amazing view and free membership of a nearby gym during your stay.
City Snowboarding
Resorts of Seymour, Grouse and Cypress Hill, which hosted the Olympic 2010 Half Pipe competition are located in the North Shore area of the city. These are all roughly 30 minute drive from the centre of town, through the 1000 acre Stanley Park and across the scenic Lion's Gate bridge.
Getting to the resorts
The Express Bus to Cypress departs from Lonsdale Quay, Park Royal Mall, Kitsilano/Fairview, West End or Richmond Centre Mall.
The public transit system offers regular service to and from the base of Grouse Mountain every half hour. Catch Bus 232 - Phibbs Exchange or Bus 236 - Lonsdale Quay. For more details, visit www.translink.ca
The shuttle bus to Mount Seymour regularly departs from Lonsdale Quay and Parkgate Community Centre.
Board Shops
There is a large selection of snowboard shops around 4th Avenue and Burrad. The Boardroom on 4th is arguably the best but due to the competition its worth checking a few as there are often discounts.
Driving around British Columbia
If you are planning to travel further afield by car it is highly recommended that you ensure it is equipped with four wheel drive, winter tires and snow chains. The high mountain passes require chains to be carried throughout the winter and road conditions may suddenly require them as it can dump a large amount there quickly. Rental companies may charge extra for chains so it may be cheaper to buy them from one of the larger petrol stations in town.
Other things to do
Vancouver offers numerous interesting things to do and the following are some of the many worth trying. Have a stroll, roller skate or bike around the 5 mile sea wall in Stanley Park and have a photo with the Totem Poles. Kids will love a visit to The Science Museum nearby and it an IMAX screen regularly showing interesting films. Alternatively go shopping in the bespoke clothing boutiques around Gastown, Granville Street or Robson Street, or check out Canada's largest aquarium featuring sea turtles and dolphins. Included in the entry price there is a 4D Movie featuring lightning, mist and wind!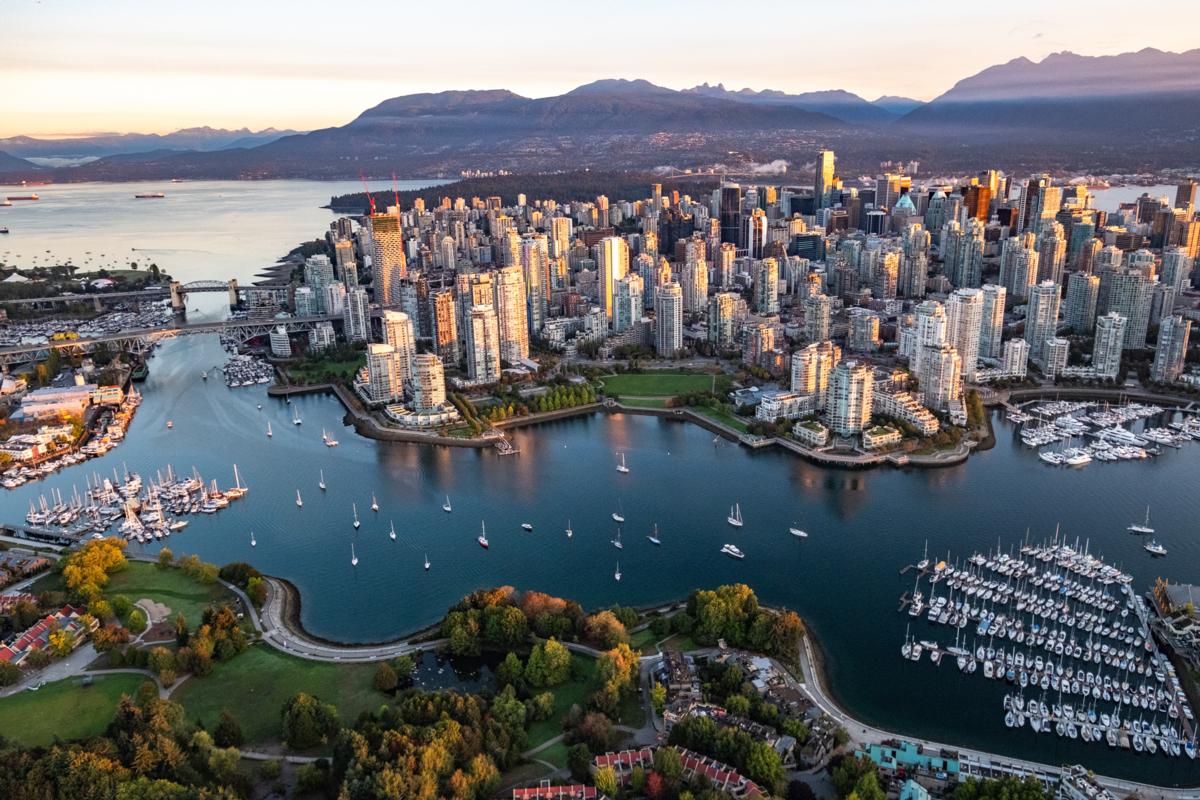 For amazing views and maximum vertigo, visit the "Cliff Walk" at Capilano Suspension Bridge. It's a 20inch wide wooden plan bridge, swaying ominously 300 feet above the canyon below and providing amazing wilderness views. There is a further viewing platform with a glass floor so make sure you aren't wearing a skirt!
Feeling really brave ? Go skinny dipping at Wreck Beach and then warm up with a coffee on Main Street and watch the world go by. The Vancouverites love their coffee and there are hundreds of shops providing the drug of choice. Sadly the big chains have invaded so please try to support a local independent coffee shop!
BC Place webcam of False Creek / Photo: Tourism Vancouver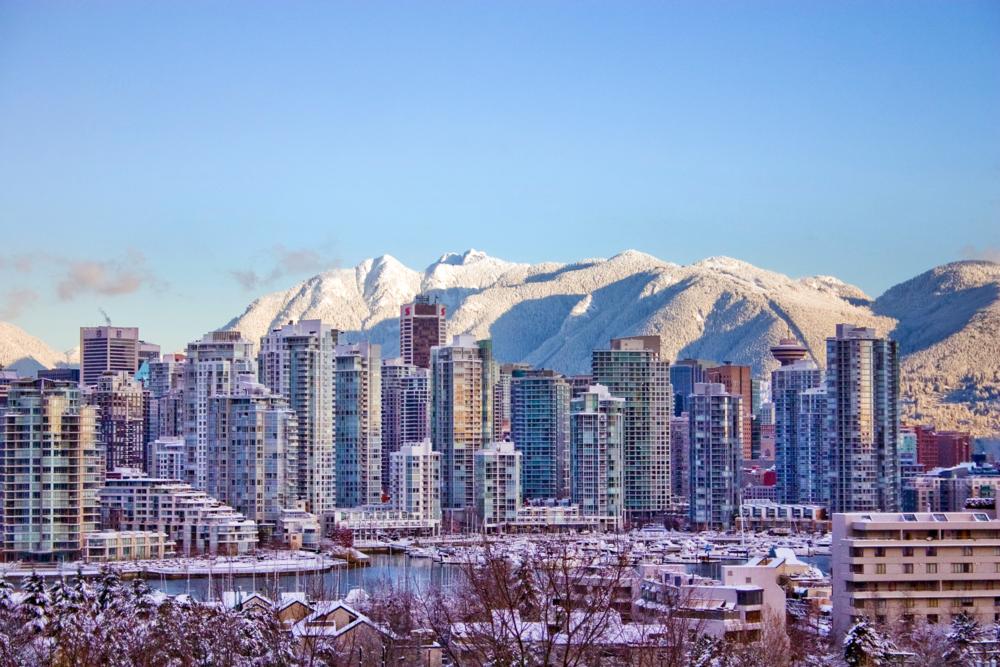 Snowy Vancouver Skyline / Photo: Tourism Vancouver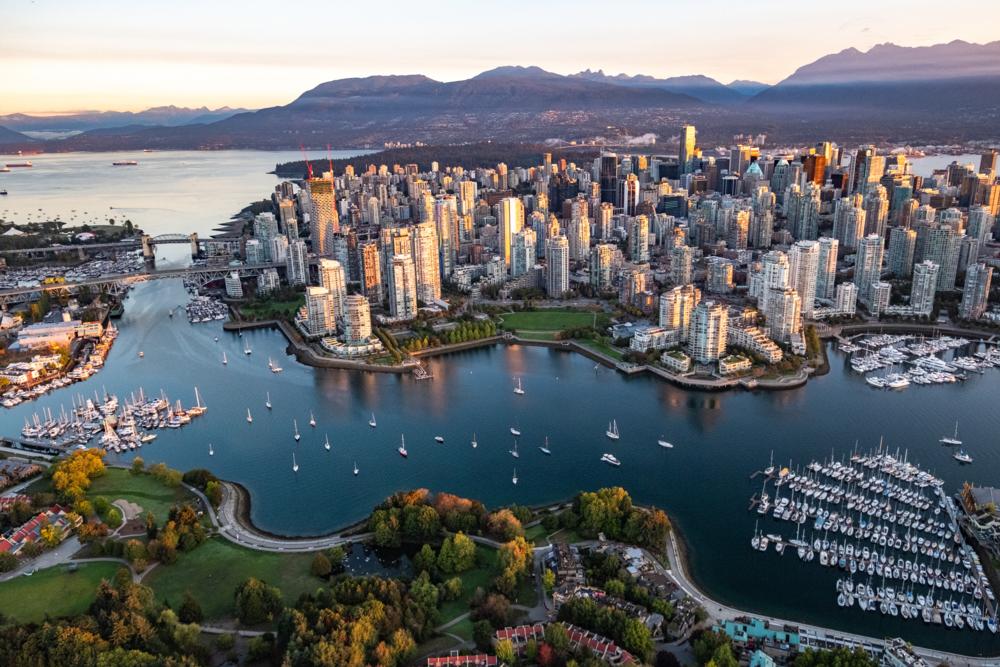 City aerial over False Creek facing northwest in the morning / Photo: Tourism Vancouver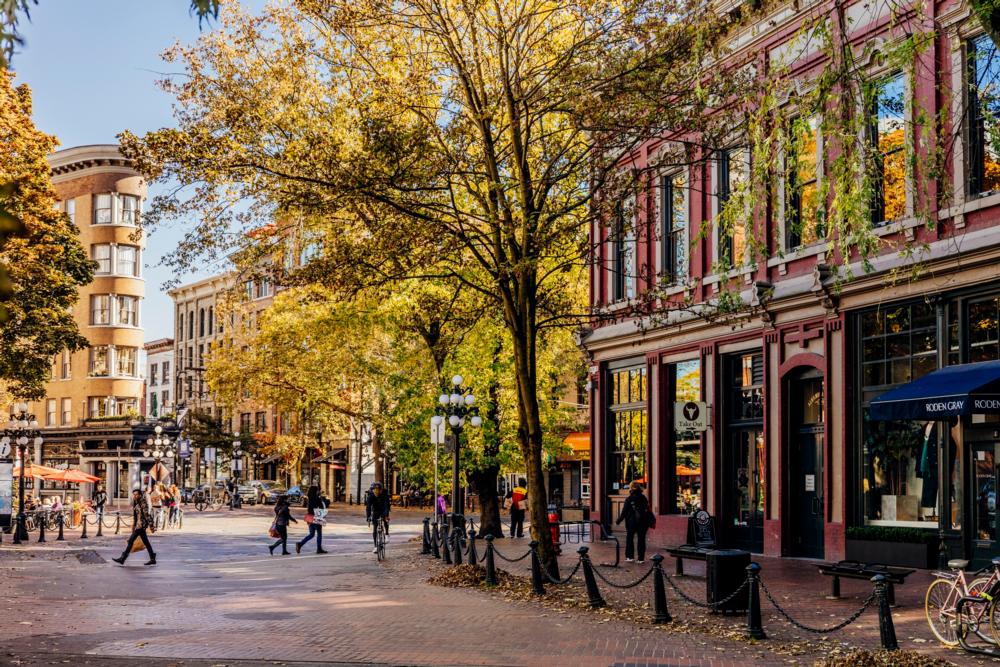 Gastown Water Street / Photo: Tourism Vancouver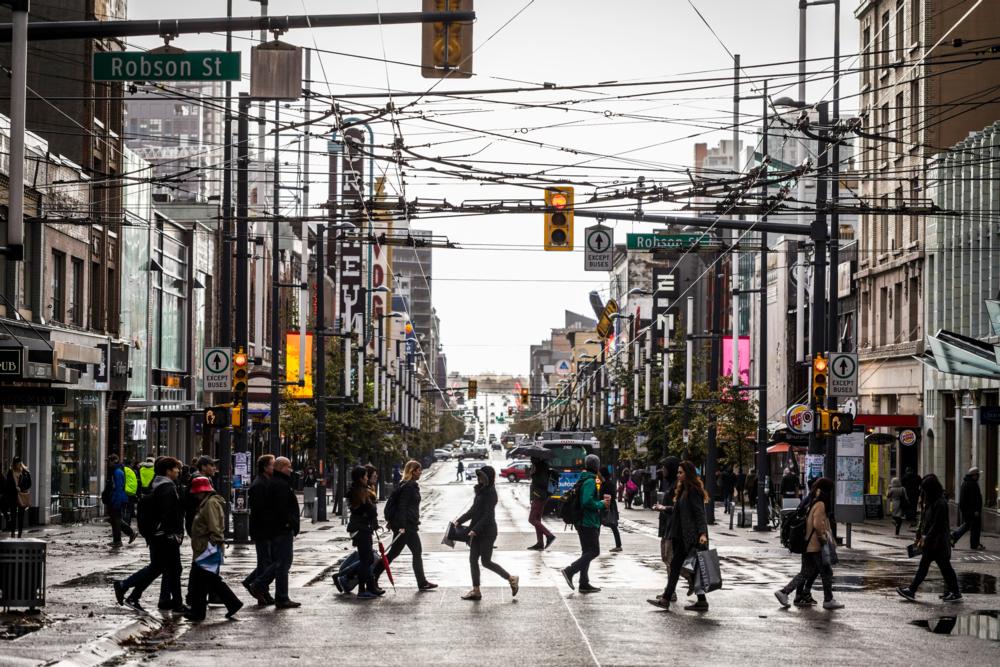 Downtown Core Granville Street / Photo: Tourism Vancouver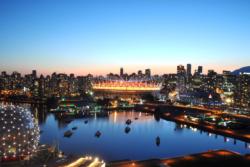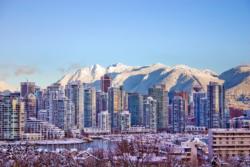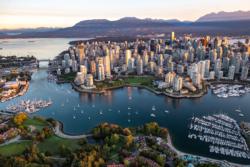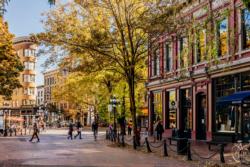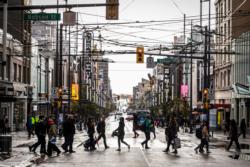 ---
Nearest ski resorts
---
Location