2010 Freeride World Tour Nissan Russian Adventure
The pressure is on for the first stage of the Freeride World Tour 2010. Krasnaya Polyana, the alpine and nordic ski area for the Sochi Winter Olympic Games in 2014, has become a legendary spot for the planet's best freeride skiers and snowboarders. The athletes have challenged the Caucasian mountains since the creation of the Freeride World Tour in 2008. The Nissan Russian Adventure by Swatch will take off for its third edition 21-22 January at the Russian ski resort, which is working on the continued development of the resort ahead of the Olympics in 2014.
Although one of Vladimir Putin's favourite holiday destinations, Krasnaya Polyana is a rather unknown resort outside Russia. The world elite of freeride skiers and snowboarders are among the few athletes to experience the next coming Winter Olympic resort.
Nissan athlete and snowboarder Xavier de Le Rue (FRA), Freeride World Champion 2009 and gold medal favourite in Boarder Cross for the Vancouver Winter Olympics in February:
"Krasnaya Polyana has the best snow in Europe! With its maritime weather conditions it snows a lot and as in Alaska it sticks very well to the steeps. With the 55 lifts and all the facilities that are planned for 2014, Krasnaya Polyana will be a major resort, which will compete with other big resorts in the Alps. "
For more information visit www.nissanrussianadventure.com
Mens Entry list
1. Xavier De Le Rue FRA
3. Max Zipser AUT
4. Matt Annetts USA
6. Mitch Toelderer AUT
8. Will Brommelsiek USA
WC. Eric Themel AUT
WC. Niklas Hollsten FIN
WC. André Sommer SUI
WC. Gennady Khryachov RUS
The women will be competing at the Scott Big Mountain Feiberbrunn.
Womens Entry list
1.Susan Mol USA
2.Aline Bock GER
WC.Vivian Aasen NOR
WC.Maria Kuzma NZL
---
Related Pages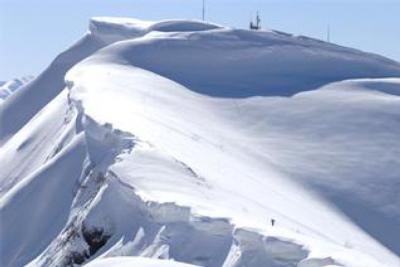 The most comfortable Russian resort, located just 45 km from the Black Sea. The beginners will like the long and easy runs through the picturesque forests and advanced riders will find some good heliboarding and off-piste opportunities. The climate is great, because the sea is nearby, however, it might be a drawback if there's not enough snow. Check the forecast before going there.