Audi Nines 2018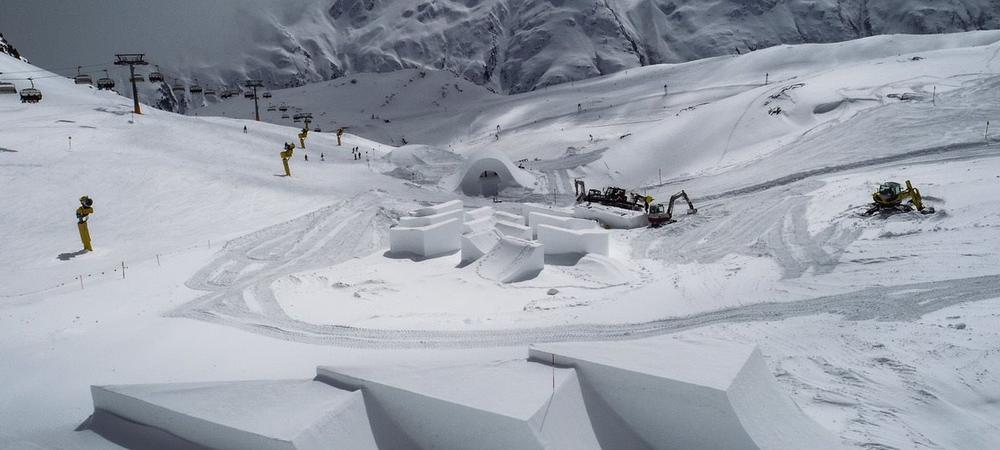 The SlopeX course, developed for the Audi Nines presented by Falken, is a combination of Slopestyle and Cross elements, enabling the athletes to integrate style as well as speed into their riding. With a length of 900 meters and a vertical drop of 200 meters, it is the longest and biggest course in the history of the event series formerly known as Nine Knights and Queens. Both Cross and Slopestyle athletes are looking forward to the public contest day on the 14th of April when they will compete together on the same set-up for the first time.

2-time Olympic Snowboardcross Gold winner, Pierre Vaultier (FRA), is excited to find out "how the transitions of the SlopeX such as the spines, hips and the rhythm section will affect and maybe even change my style of riding." The finish will be a 30-40 meter jump leading into a unique 18-meter high 180-degree turn. "Instead of a finish line there will be a ´ninja warrior' styled buzzer. This mix of fun and innovation makes me want be a part of the Audi Nines," adds German Skicross athlete, Paul Eckert. The multi-option quarter pipe feature with four take-offs and two 17-meter-tall landings will be accompanied by two big air jumps, enabling the riders to push their boundaries in the safest way possible.

4-time X-Games winner Silje Norendal (NOR) remarks: "I like that the Audi Nines course layout is different to all other courses. It's going to be all about having fun, and that is something we all need after this busy Olympic season."
Olympic Ski Slopestyle athlete, Jesper Tjäder (SWE), agrees: "I care about all the unique features, in combination with being around good friends, there is nothing else I want to be doing this spring."

The athletes have five days to explore the endless possibilities of the SlopeX set-up before the big public contest day will take place at Tiefenbach Glacier in Sölden on the 14th of April. The event format incorporates seven different categories, from Snowcross over Big Air and Quarter Pipe to team challenges promising a spectacle never witnessed before. The flower ceremony after the contests is followed by an Après-Ski party outside Tiefenbachferner restaurant and the official Audi Nines after-party at Katapult, Sölden, welcoming spectators, crew and riders.

The full list of confirmed riders:
Skicross
Ski Men
Paul Eckert (GER)
Noah Albaladejo (ESP)
Alex Fiva (SUI)
Jules Bonnaire (FRA)
Filip Flisar (SLO)
Oystein Braaten (NOR)
Tyler Wallasch (USA)
Bene Mayr (GER)
Thomas Zangerl (AUT)
Andri Ragettli (SUI)
Tom Ritsch (AUT)
Christoph Schenk (ITA)
Jesper Tjäder (SWE)
David Wise (USA)
Snowboardcross
Snowboard Men
Paul Berg (GER)
Torgeir Bergrem (NOR)
Xavier de le Rue (FRA)
Sebbe de Buck (BEL)
Alessandro Hämmerle (AUT)
Simon Gruber (ITA)
Hagen Kearney (USA)
Terje Haakonsen (NOR)
Alex Pullin (AUS)
Christian Haller (SUI)
Konsti Schad (GER)
Marcus Kleveland (SWE)
Pierre Vaultier (FRA)
Clemens Millauer (AUT)
Ski Women
Snowboard Women
Silvia Bertagna (ITA)
Jamie Anderson (USA)
Jennie-Lee Burmansson (SWE)
Anna Gasser (AUT)
Emma Dahlström (SWE)
Klaudia Medlova (SVK)
Mathilde Gremaud (SUI)
Silje Norendal (NOR)
Johanne Killi (NOR)
Kjersti Ostgaard-Buaas (NOR)
Giulia Tanno (SUI)
Sarka Pancochova (CZE)
Zoi Sadowski-Synnott (NZL)
Schedule Public Contest Day (saturday):
| | |
| --- | --- |
| 11:00 - 12:00pm | Qualifications SlopeX (SlopeX Course) |
| 12:00 - 01:00pm | Qualifications Freestyle (Freestyle Feature) |
| 02:00 - 02:30pm | Finals SlopeX (SlopeX Course) |
| 02:30 - 03:00pm | Finals Freestyle (Freestyle Feature) |
For more information and updates head over to https://audinines.com
---
Related Pages