Ruka
A good resort with terrain that allows for freeriding and some really good carving. Great for novices. Good selections of slope-side facilities.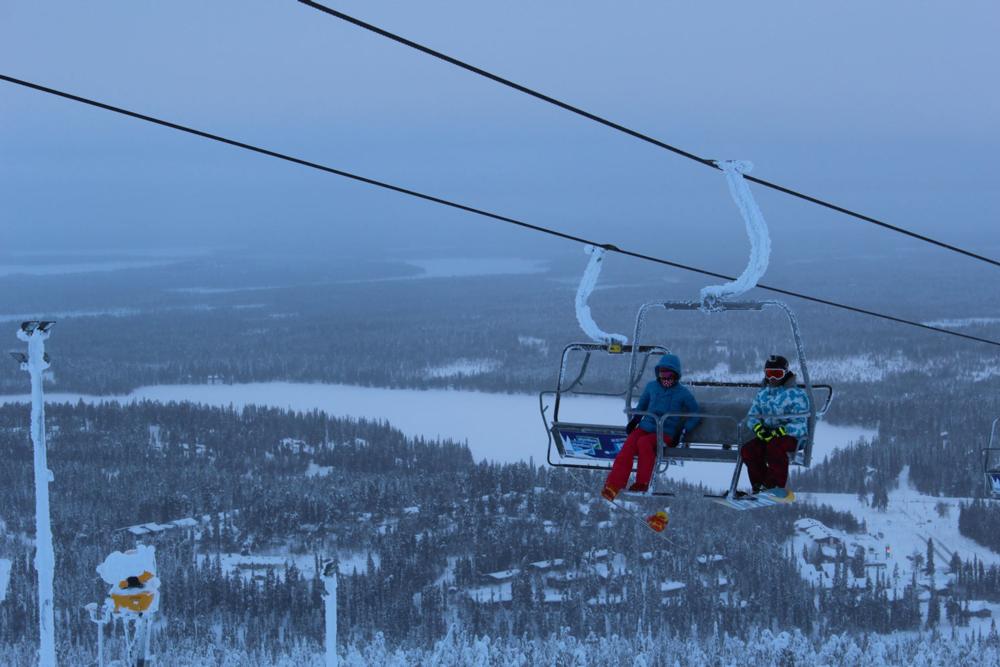 Ruka Chairlift / M Whittaker
Freeriding
Freeriders will find some interesting terrain to explore in Ruka, except it won't take too long. There are some nice areas to ride, including both open and tight tree sections, especially around the side of the ski jump. Ruka is also known for having some good powder stashes. Although it's never super-deep, it's still good fluffy stuff. The Avalanche risk in Finland is almost non-existent as the resorts are all on larger hills rather than mountains. This means that anyone wanting to try some freeriding for the first time could do worse than head here.
Freestyle
Freestylers
will be in there element in
Ruka
as the resort has gone all out to impress park riders with well-maintained parks, which have a variety of lines for riders of all levels. There is also an impressive
halfpipe
between blue
piste
24 and red
piste
25 this dominates the higher runs and is maintained to a very high standard. The pipe is accessed from the mountain peak or by taking the
Ruka
Express to the top. The parks are groomed daily and have a good range of gaps and tabletops of all sizes, so you won't need to hike up with your own shovel to shape hits here.
The Rosa & Rudolf Snow Park in
Vuosseli
has
ahree
magic carpets at the lower section and the area has been designed for beginners, the magic carpet at the middle section is for more developed skiers and the Rosa & Rudolf platter lift takes skiers to the upper section. The
Ruka
Battery park development: The park has four lines for different skilled riders. Rail line for jibbing, small line with small 2-4 meter jumps and easy rails, medium line with medium sized 6-10 meter jumps as well as big line with 10-20 meter jumps.
If you're hanging around in the park for too long it's also worth knowing you can use any of the nearby shelters to start  a wood fire where you can warm those cold hands. The parks here are designed in such a way that nobody will feel left out whatever their level of riding, there will be feature you can hit. The talent emerging form local Finnish and major freestyle competitions head to
Ruka
says it all really. 
Pistes
Riders are well provided with well spaced-out trails, allowing for some fun carving - most of which needs to be done on a series of blue and red
pistes
. The steeper runs in the resort are accessed from
Ruka
Village where you can take
Etutuoli
chairlift
to hit a variety of short Black
Pistes
(9), (3) and (2) these all offer a bit of steepness but nothing is too scary. As well as the black
piste
this side also has Red
Pistes
(1), (2) and (3) which are good and wide for some fast carving. This area also includes a
FIS
stand run which is worth heading down especially if you are after a challenge on steeper terrain. 
Beginners and early intermediates also have plenty to do in
Ruka
 . Taking the same
Etutuoli
 chair to the top you can ride down a variety of long blue
pistes
on the other side of the mountain. Most of these are wide and not too steep but if they prove too much of a challenge beginners can take an easy route through the trees on
piste
No 27. This winds gradually down the mountain and also offers a rest point where you can meet the reindeer and warm up by in the local hut. Chair 'B' from the village also offers a wide and easy slope  which is a good run to do quick loops back to
Ruka
village. This chair also offer a route through to the
Vuosselis
area via blue
piste
16 this is a wide run that opens up onto the main area.
Wherever you end up on the slopes you won't go far wrong as the
pistes
in
Ruka
are all close to one another so you can quickly get around the mountain without having to spend a long time transferring between lifts. Another bonus in
Ruka
is that you will never queue more than a minute or so to get on the lifts, if you couple this with the late opening hours you can really get your mileage out of the lift pass.
Beginners
Beginners will find plenty of gentle runs that allow for long descents from the summit, this makes Ruka a good place to learn the basics. The place has amazing Freestyle facilities and slopes that are open till 19.00 pm every night accept for Fridays till 23pm, so you can get loads of riding in if early mornings aren't your thing.
If you are making your first turns or even want some private lessons head to Ruka Ski School Office next to the (Piste) restaurant. The instructors here will look after you are very knowledgeable when it comes to all things snow related. As well as ensuring you get the most of your time on the slopes they will also get you kitted out with the best equipment to get you through your holiday.
Beginners will particularly enjoy piste number (5) next to the Kuru 3 person Chairlift and also pistes (30) and (31) these can be accessed from the top of the mountain. The Rosa and Rudolph area also has short magic carpets that offers total beginners a chance to find their feet without trying out more daunting lifts. Having said this everything is well linked when you eventually head up to the top of the mountain.